Very impressive swims at Nova Meet with new county and club records
Submitted by

Maciej

on Mon, 2016-10-17 12:05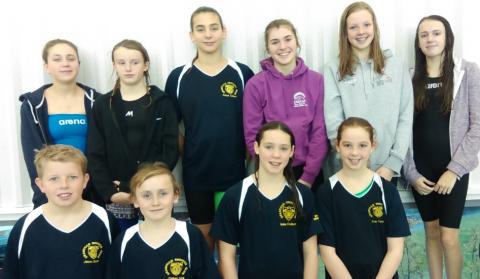 5 club records (50 and 200 free, 100 back, 100 breast, 100 fly) and 1 county record (100 fly) were claimed by Freya Colbert this time. Freya also topped British ranking in 100 fly and 200 free. Absolutely impressive!
Abigail Farkas also had an amazing gala coming first in 100 butterfly final and already moving up in the British ranking to 20th place. Great start! Abigail also showed fantastic progress in 200 backstroke (4 seconds personal best time) and 200 breastroke (6 seconds PB!).
Sophie Culpin despite being away for a holiday still managed to swim strongly throughout the weekend setting new club record in 50 butterfly.
Aidan Wright despite not feeling 100% well comfortably set a new club record in 400 free which is also second fastest time achieved this year in Lincolnshire.
Thomas Lewis set 3 new club records in backstroke and his new personal best time in 200 backstroke is already second fastest time in Lincolnshire.
Caleb Mackey had some solid swims (200 breast, 200 back) with 100 free the most impressive. Caleb is now 6th fastest in our county and he is getting very close to the 100 free club record which was set when Caleb was.... 1 years old!
Connie Philips in 100 free shaved off whooping 12 seconds. The new time is the fastest in our county and 34th in the whole of Britain! Wow!
Iona Colbert did not hear the bell in this gala but still improved 100 butterfly (31st place in Britain) and 100 backstroke (16th in Britain)!
Maddie Barnes improved nicely in the 100 breastroke just shy from going under 1.18 and now her time is 6th fastest in the county.
Sofia Breeze also had a good gala with a personal best time in 100 breast, 200 backstroke (over 2 seconds PB) and 100 backstoke (over 3 seconds PB).
Nicolas Breeze showed some maturity swimming well in 200 free and improving his old time by nearly 3 seconds.
James Dobney with his new personal best time in 100 breastroke nicely progressed to the third place in county ranking. In 200 breastroke James achieved stunning 5 seconds improvement and is now ranked first in our county!
Evie Turner swam all her races close to her personal best, but she can be pleased the most by 100 backstroke where she achieved nearly 2 seconds improvement. Nice!
Jacob Allen managed to improve his short course PB in 200 butterfly which is good indicator for future progression.
Well done swimmers!