Another 3 county and 24 club records broken in absolutely gutsy performance during the winter club champs
Submitted by

Maciej

on Wed, 2016-11-16 14:18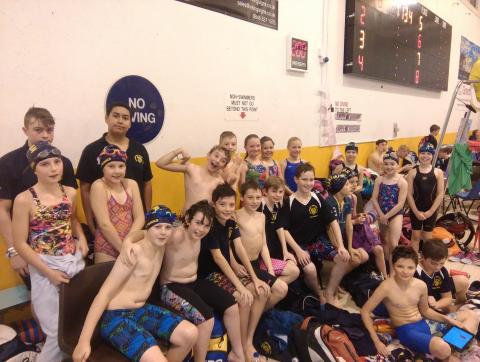 Freya Colbert again delivered the most remarkable results. Freya broke a county record in 400 IM and now is leading the 400 IM British ranking by 2 seconds. Also her time is fourth fastest time achieved this year at County. Freya also set a club record in 200 free (2nd fastest time in Britain), 400 free (4th in Britain) and 50 backstroke.
Sophie Culpin set this time 2 county records in 200 and 400 free and 3 club records showing some great sport maturity.
Abigail Farkas broke a club record in 50 butterfly (and moving up to the 1st place in the county ranking) and Molly Colbert finally showing strong fitness added another record in 400 free (also securing first place in County).
Among the boys it was surely Caleb Mackey's day with a stunning swim in 400 IM which is now 22nd fastest time in Britain. Caleb also smashed records in 50 fly, 100 fly and 100 IM. Aidan Wright absolutely dominates in distance events this season setting new club records in in 200 and 400 free. In 400 free Aidan already achieved his short course season target and moved himself up to 28th place in Britain.
Cameron McRae despite not feeling great managed to show strong rivalry to Thomas Lewis setting a new club record in 100 backstroke.
Another greatly talented swimmer Billy Reed added a stunning 6 new club records in 400 free (19th place in British ranking), 100 back, 50 fly, 100 fly (23rd in Britain), 100 IM and 400 IM with 7th fastest time achieved this year in British ranking! Wow!
Archie Tagg set a club record in 50 backstroke but he will be pushing for more in Boston Open this weekend just days before his birthdays.
In 100 breastroke there were three 8 years old swimmers who swam faster than our current club records. James Coleman – however his time was not valid as he was given disqualification. Elijah Halliday clocked the time of 2.02 and he broke a new club which last since 2004. However Elijah's record lasted only minutes till Logan Melville swam 2.00 and broke Elijah's record. Elijah however had a cracking 50 breastroke (5th fastest time in County) but missed a club record by 0.01 second! Still amazing job boys!
Iona Colbert also set new championships record in 50 free, 50 back, 100 back achieving some fastest times in our county.
Francesca Hallam-Stott set a new championships record and also qualified for the first time for county championships in 100 butterfly with the second fastest time in the county ranking! Well done Francesca!
Callum Melville dominated the 10 years old age group achieving 8 county times and achieving the 2nd fastest time in 100 BR in Lincs! Chloe Daybell also had some excellent swims and has already achieved 7 county times; Chloe Hopkinson has qualified in 4 events. And there is still Boston Open left to do!
Well done for the following girls who achieved excellent progress: Maddie Barnes (22 seconds improvement in 400 free), Sofia Breeze (17 seconds personal best and 5th in 400 IM in County ranking), Abbie Philips (20 seconds personal best and also 5th in 400 IM in County ranking), Mia Ellis (1st in 100 BR in County), Connie Philips (1st in 100 FLY in County ranking by 8 seconds!), Evie Turner (1st in 100 BK in County), Fiona Brown, Martine Henderson, Caitlin Anders, Jessica Trotter, Alisha Tyers (3rd in Lincolnshire), Hannah Berwick, Rosie Belcher, Florence Moncur, Gracie Massingham, Isabel Bellamy, Chloe Burch, Katie Beardsmore, Evie Whitfield, Ashlee Hayter, Alex Hallam-Stott, Grace Turner, Emma Purdy, Beth Gibson, Josie Turner, Alex Theobald and Ava Reed.
Well done also for the following boys who achieved some impressive progressions: James Dobney (41 seconds personal best in 400 IM and the fastest time in County), Callum Lees (28 seconds personal best also in 400 IM and the third fastest time in County), Nicolas Breeze (21 seconds progress in 400 free), Alasdair Henderson (great debut in club champs), Cade Barends, Kaelin Smith , Niall Brown (also debuting in the club champs!), Edward Bellamy, Ethan Wright, Thomas Perks, Jake Baty, James Coleman (27 seconds personal best in 200 free!), Vadims Molcanovs, Tom Berwick, Joshua Clarke (our 8 years gold medallist in 25 free and 25 fly!), Oliver Doughty, Benjamin Pitcher, Tallon Birch, Max Kowalski (11 seconds personal best in 100 free), Oliver Bailey and Henry Roberts.
Also well done to our youngest swimmers Grace Davies, Evie Twelvetree, Cora Farley (gold medallist in 25 fly and 25 free), Millie Bailey, Kayten Birch, Emily Parkins, William Brummit, Thomas Thorton and Toby Stevenson.
Another step to be the best of the best! Well done!