Connie Philips with 11 fastest time in British ranking sets a new club record during Boston Open meet while others claimed more county times
Submitted by

Maciej

on Tue, 2016-11-29 10:50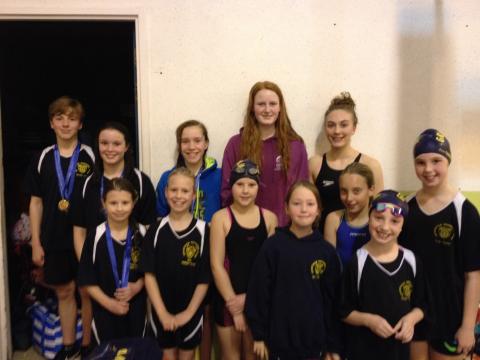 Despite the fact the meet was just a week after club champs, swimmers bettered their personal best times over 2 very long days of racing. The most impressive swim was Connie Philips 50 butterfly race. Connie set a target to break the 50 butterfly club record and this time she swam superbly, not only demolishing the previous record by a second, but also achieving 11th fastest time in her age group in Britain. Connie unfortunately missed the County record just by 0.1 second. Woooow what determination Connie!
Sophie Culpin was another swimmer who managed to break club records in 50 free and 50 fly. Well done!
George Berwick achieved some amazing swims. In 200 IM George bettered his time by over 3 seconds and in 200 breast by nearly 3 seconds and now he is 3rd ranked in the County. Don't stop there George!
Archie Tagg just before his birthday aimed to get some new club records. He was close with a stunning 200 IM (6 seconds personal best) and 200 free (5 seconds PB).
Cade Barends dropped an impressive 8 seconds in 200 IM and an amazing 18 seconds in 200 breast.
Tom Berwick swam a great 200 IM achieving nearly 5 seconds personal best.
Ethan Wright must be very pleased with his 100 backstroke improvement by 9 seconds and 50 backstroke by 5 seconds. Nice job!
Edward Bellamy won in his age category in a few events showing strength especially in 200 breastroke where his improvement by 4 seconds moved him up to 4th place in our county ranking.
Jacob Allen despite being ill still showed some strong potential with 100 free going under 1.04 for the first time.
Riley Taylor and Vadims Molcanovs both achieved some great results and qualified for the first time for County championships! Congratulations!
Chloe Daybell was like many swimmers on a mission to get as many County times as possible. She achieved great improvement in 200 IM by nearly 4 seconds.
Isabel Bellamy had superb 200 IM (stunning 10 seconds personal best!) and 200 back (4 seconds off).
Rosie Belcher also swam an impressive 200 IM achieving nearly 9 seconds progression, 100 back (10 seconds off!) and 100 free (whooping 15 seconds off).
Alex Theobald swam a great 50 fly bettering her old time by a very respectful 4 seconds!
Katie Beardsmore had a solid 100 IM shaving off nearly 3 seconds and 200 breastroke with nearly 6 seconds personal best time!
Francesca Hallam Stott shaved off 9 seconds in 200 IM in impressive style , 10 seconds in 200 back and 3 seconds in 100 breastroke.
Martine Henderson showed she was ready for another great season by shaving off over 3 seconds in 200 breastroke and claiming another County time.
Jessica Trotter had impressive 200 breastroke with over 8 seconds progression.
Evie Turner clocked over 5 seconds improvement in 200 backstroke which validated her first place in the County ranking.
Grace Turner also was smoking fast! Her 200 backstroke was 10 seconds faster than her previous best record and her 100 breastroke was faster by 7 seconds. In 200 breastroke Grace achieved a personal best record by stunning 11 seconds
Chloe Hopkinson has been showing some great racing spirit and swam a great 100 breastroke clocking a new personal best time by nearly 4 seconds.
It was a hard and long weekend and all the swimmers did an absolutely great job! Well done!