30 gold medals won, 15 club records and 3 county records broken in the first weekend of Counties with some superb swims achieved by superb swimmers
Submitted by

Maciej

on Tue, 2017-01-24 11:03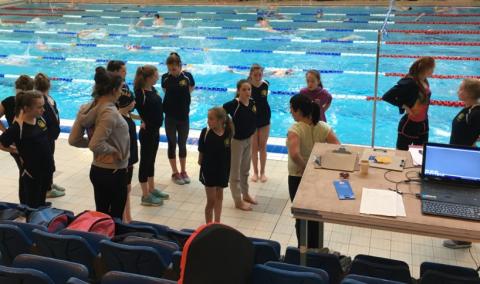 Swimmers are surely on target to achieve 60 gold medals this year at Counties as, after just a day and a half, we already have 30 gold medals.
It was amazing to see that our swimmers showed exceptional determination to fight for the whole team. Freya Colbert, Sophie Culpin (100 fly) and Aidan Wright (200 breastroke) all broke county records in their finals. Iona Colbert (50 back), Abigail Farkas (100 fly), Caleb Mackey (400 IM, 100 fly, 200 free), Billy Reed (200 breast, 400 free, 100 fly, 100 IM), Archie Tagg (50 back) and Benjamin Buck (50 back) also broke club records. We have new Midland qualifiers – Benjamin Buck, Callum Melville, Connie Philips, Katie Rundle, Archie Tagg, Jemma Housego and Beth Gibson! Wow!
Grantham swimmers dominated in so many events. Most of the swimmers achieved massive personal best times and they even bettered them in the finals. This is absolutely exceptional! The medals tally this time is, however, down to our younger swimmers who showed absolutely amazing determination.
Connie Philips dominated in fly events – achieving 3rd fastest time in Britain. Jemma Housego also came first with 4th fastest time in British ranking. Abigail Farkas in the same event also moved up in the ranking to 21st place and now she is on target to qualify for British Championships.
Evie Turner revealed her strengths and dominated BK races achieving 12th fastest time in British ranking this year in 50 meter event! Evie a year ago could not swim BR but massive stroke work improved her weakest stroke so Evie had no problem to win 100 IM achieving 21st fastest time in Britain! Amazing!
Iona Colbert barely holding off Jemma achieved 19th fastest time in Britain this year in 100 IM. Callum Melville in 200 breastroke achieved not only a Midland time but also 15th fastest time in British ranking. Billy Reed this time took the glory in the same event clocking 4th fastest time in Britain!
Katie Rundle also moved up the British ranking coming first in 400 IM and has also great potential to achieve ASA Nationals qualifications this year.
Caleb Mackey despite recent injuries managed to shave off a few seconds in his 400 IM and is now 15th in 400 IM in Britain!
Also amazing swims were achieved by Lara Hawkes, Abbie Philips, Maddie Barnes, Callum Lees, Chloe Daybell, Nicolas Breeze, George Berwick and Riley Taylor.
Swimmers you delivered an absolutely amazing job! To win counties we have to swim superbly again in 2 weeks!
Congratulations!
Medal table is also attached - so far Freya and Caleb are strongly leading our team!