With one day to go Grantham secured 59 gold medals at County championships with some superb swims
Submitted by

Maciej

on Wed, 2017-02-08 21:42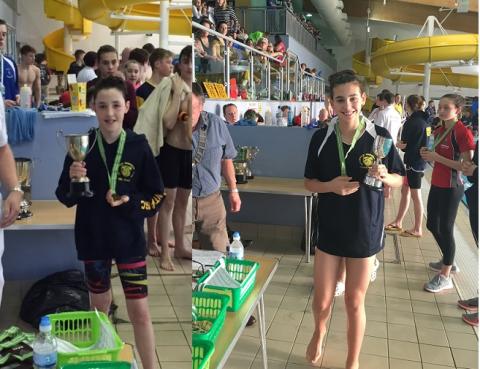 The weekend was full of amazing swims. There have been 4 county records broken – Sophie Culpin 200 IM and 200 fly (also first in the club ASA Short Course National qualifying time), Freya Colbert – 200 fly and Callum Melville – 50 breast. Well done swimmers!
Swimmers broke a staggering 30 club records during two weekends of Counties! This time Iona Colbert added a record in 100 backstroke, Freya Colbert in 100 back and 200 fly, Sophie Culpin 100 free and 200 fly, Callum Melville in 50 breast, Billy Reed in 100 free, 100 and 200 back, 50 and 200 fly, and 200 IM, Thomas Lewis in 100 back and Caleb Mackey in 200 IM. Congratulations!
Billy Reed delivered some great swims in 100 breast, 200 IM (12th fastest time in British ranking) and 200 fly (9th fastest time in British ranking). Evie Turner swam superbly in 200 back and 100 back (11th fastest time in British ranking). Connie Philips dominated in her fly events finishing first in all of them and moving in ranking to 3rd place (200 fly) and 13th (50 fly). Both Evie and Connie also qualified for the first time to Age Group Midland championships!
Iona swam a superb 100 backstroke and moved up to 7th place in the ranking. Hayley Milne came first too in 200 IM with her new personal best time.
Callum Melville improved greatly, achieving 7th fastest time in Britain in 100 breastroke and 10th in 50 breast. Jemma Housego also claimed victory in 100 free where she achieved 30th fastest time in Britain. Abbie Philips showed great improvement especially in 200 fly (10 seconds PB!) and now Abbie is in top 44 in British ranking in 200 fly which puts her in contention for national championships qualification.
Well done also to Benjamin Buck, Archie Tagg (great determination in 100 free and 100 back final), Caleb Mackey (great PB in 200 fly), Nicolas Breeze (9 seconds PB in 200 fly), James Dobney (4 seconds PB in 200 fly), Beth Gibson (great 100 breast), Martine Henderson, Chloe Hopkinson, Mia Ellis (great 50 breast), Chloe Daybell (great 100 free and 200 IM), Riley Taylor (great 100 back), Lara Hawkes (great 100 breast) and Maddie Barnes (great 200 back).
Well done also to all of the medalists and finalists! One day to go to prove we are the best club in Lincolnshire!
The medal table attached (let me know if there is a mistake!)