Swimmers from Grantham smashed their own personal best times in the first round of Grand Prix
Submitted by

Maciej

on Fri, 2017-02-17 21:33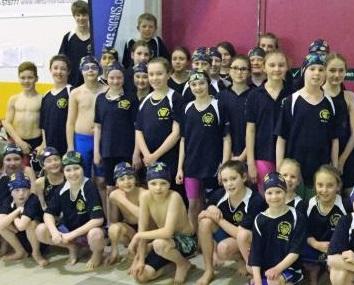 Billy Reed, only a week after Counties, showed a massive improvement once again – a club record in 50 backstroke and 20th fastest time in 200 free in Britain. Well done Billy!
Kaelin Smith was the fastest in 200 free in 11 and under boys, achieving a stunning personal best time by 8 seconds and also achieving the 5th fastest time in his age group in Lincolnshire. Kaelin also achieved the third fastest time in county ranking in 50 backstroke! Amazing!
Tom Berwick achieved the overall biggest improvement in 200 free by nearly 14 seconds and Logan Melville by 8 seconds. Joshua Clarke swam 200 free for the first time and achieved the fastest time recorded this year in Lincolnshire in his age group. Joshua surely is now after the 200 free club record!
Niall Brown smashed his old time in 50 butterfly by nearly 6 seconds and 200 free by 9 seconds! Wow!
Thomas Perks (2 seconds off) and Elijah Halliday (6 seconds off) both showed great improvement in 50 backstroke!
Emily Parkins and Elina Molcanova absolutely smashed 50 free recording the biggest improvement by stunning 8 seconds!
The following swimmers all achieved over 2 seconds personal best time in 50 breastroke: Jessica Trotter, Katie Beardsmore, Connie Philips, Evie Turner, Ashlee Hayter, Gracie Massingham, Evie Whitfield, Francesca Hallam-Stott, Evie Cropper, Grace Davies and the biggest improvement of the day Elina Molcanova – over 15 seconds personal best time! Congratulations girls!
Jemma Housego and Mia Ellis came first and second respectively out of Grantham swimmers in 200 IM, both achieving respectable 2 seconds personal best time.
Chloe Hopkinson had a stunning race where she shaved off nearly 15 seconds! Caitlin Anders also smashed this race with 7 seconds improvement! Evie Whitfield improved by 8 seconds, Katie Beardsmore by 12s and Ashlee Hayter by 14 seconds! Excellent job swimmers!
The younger girls swam 100 IM where Grace Turner and Eva Reed swam superbly improving by 6 and nearly 5 seconds respectively.
Well done!