Iona Colbert with a new club record and Callum Melville with 10th fastest time in Britain shine during the Junior Lincs League
Submitted by

Maciej

on Tue, 2017-03-21 22:08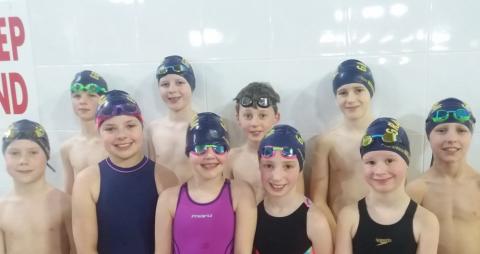 There were many great swims at Scunthorpe and for many it was the first time representing Grantham in the junior Lincs. league. Iona Colbert swam a superb race with great underwater kick, which resulted not only in a first place for Grantham, but also a new PB and a club record in 50 backstroke.
Callum Melville showed some outstanding talent. His new best time in the 50 breastroke was not only the fastest of the day but also the 10th fastest time in the British ranking! Amazing!
Grace Turner achieved one of the biggest improvements of the day! Grace swam whopping 6 seconds personal best in the 50 fly! Wow Grace!
Well done also to Kayten Birch who swam a great new personal best in 25 free (2 seconds off) he also swam 25 breast, 25 back and 25 fly. It sure was a busy day for Kayten!
Ava Reed had a stunning 50 breast (3 seconds off) as well as Elijah Halliday (nearly 5 seconds off). William Brummitt smashed the 25 backstroke,achieving anearly 3 seconds personal best in 25 backstroke! Great spirit!
Evie Turner had no competition delivering a strong first place in the 50 backstroke and Connie Philips in the 50 fly with a new PB!
Joshua Clarke debuting in the league improved his 25 free; Logan Melville in 25 breastroke (fantastic 1st place), James Coleman in 50 back (solid 1 second improvement!), Chloe Daybell in 50 free, Evie Whitfield in 50 fly and Oliver Daughty in 50 free.
Well done swimmers!