Joshua Clarke destroyed 2 club records during the Grand Prix while others showed significant progress
Submitted by

Maciej

on Tue, 2017-03-21 22:10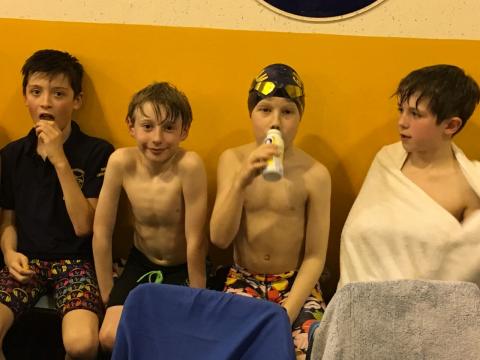 It was to be a slow meet due to faulty lane ropes, but this did not stop our swimmers delivering outstanding performance. Joshua Clarke in 3 races broke 2 club records. Joshua broke the8yr old club record in 50 free (an astonishing 8 seconds personal best time!) and in the 100IM, he smashed the record by 7 seconds which had stood for 12 years. His 100 IM time is currently the 22nd fastest time in the British ranking. Josh now you can smile!
Billy Reed also added one club record in the 200 IM, where he dominated his age group with the 14th fastest time in Britain! Billy also broke several Grand Prix records! Way to go Billy!
Others also swam well although did not take club records.
James Coleman and Elijah Halliday swam well in the 100 IM both dropping about 15 seconds from their previous times. Wow!
In the 50 free the boys delivered some great personal best times – James Coleman (4 seconds off), Elijah Halliday (6 seconds off!), Jack Cropper (3 seconds off), Cade Barends, Niall Brown, Edward Bellamy, Tom Berwick and Finn Hance (all improved by about 2 seconds).
In 50 breastroke again Joshua Clarke improved the most, shaving off 12 seconds but unfortunately missing the record by a second. Niall Brown also swam an excellent race, achieving a 7 seconds personal best. Both Archie Tagg and Cade Barends smashed their times with 4 seconds off, Kaelin Smith, Elijah Halliday and Logan Melville all improved by a great 3 seconds! Nice job boys!
In the 200 IM, swimmers had to demonstrate 4 good strokes and they did it in fast style. Callum Melville and Archie Tagg both improved their previous times by a stunning 7 seconds. Edward Bellamy improved even more by 15 seconds and Tom Berwick by 9 seconds. Great swims were also recorded by Vadims Molcanovs, Niall Brown, Kaelin Smith and Ethan Wright.
In the 50 fly Mia Ellis, with a new personal best achieved her first Midland time! Congratulations Mia! Emma Purdy improved the most out of all the girls by an amazing 12 seconds. Other great swims: Evie Whitfield (6 seconds off!!!), Caitlin Anders (5 seconds off), Katie Beardsmore (4 seconds off), Ava Reed, Grace Turner and Martine Henderson (all about 3 seconds off). Well done girls!
In 50 backstroke the biggest improvement came from Emily Parkins with an enormous personal best time of nearly 10 seconds! Wow! Elina Molcanova and Emma Purdy both also improved by a great 8 seconds; Ava Reed by 4 and Chloe Daybell by over 2. Nice!
Jemma Housego again showed great improvement in 200 free by a spectacular 8 seconds moving up in the British ranking and showing that she can race well in longer races too. However, Emily Parkins decided she would go for a massive personal best time and she smashed it by 46 seconds! Grace Davies was not far off with her 42 seconds improvement! Wow! Emma Purdy continued her great day with a 24 second personal best, while Gracie Massingham shaved 21 seconds off her time! Amazing job girls! Alex Hallam Stott had to dig really deep finishing witha near 11 seconds PB. Evie Whitfield and Ashlee Hayter both achieved quicker times by 8 seconds; Martine Henderson by 7 seconds, Chloe Hopkinson (despite injury) by nearly 4 seconds. Well done also to Emily Buck, Ava Reed, Elina Molcanova and Alex Theobald for swimming this event well for the first time!
Well done swimmers!