Billy Reed Adds Another Club Record and Cade Barends Achieves his First County Time During the Third Round of Grand Prix
Submitted by

Maciej

on Wed, 2017-04-19 10:25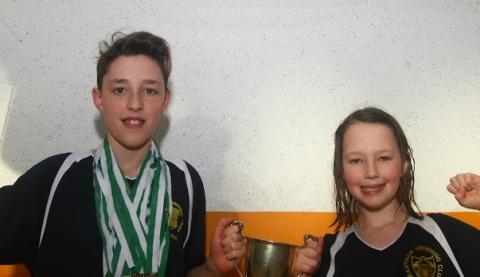 Once again, swimmers delivered massive personal best times in the 200 free – Joshua Theobald, Edward Bellamy, Tom Berwick, Joshua Clarke (2nd fastest time in the County! Wow!), Elijah Haliday, Finn Hance, Callum Lees, Vadims Molcanovs, Cade Barends and Zachary Reeves!
In the 50 fly again, Joshua Clarke improved the most by astunning 4 seconds and moved up to second place in the county ranking! Good progress was also recorded by Vadims Molcanovs and Edward Bellamy! Billy Reed shaved a bit off his personal best time which was enough for a new club record! Cade Barends also achieved his first ever county time in this event! Well done boys!
In the 50 backstroke, it was Niall Brown who recorded the biggest improvement by over 2 seconds! Nice!
In the 50 free the youngest swimmers improved the most: Emily Parkins, Emma Purdy (stunning 6 seconds off!), Grace Davies, Elina Molcanova and Evie Cropper.
In the 50 breastroke there were some solid races by Caitlin Anders, Evie Whitfield and Emily Parkins. All of them achieved an over 1 second improvement. Grace Davies swam an amazing race clocking an enormous PB by nearly 9 seconds! Wow!
In 200 IM Jemma Housego tried hard to get a new PB and she succeeded by a respectful (almost) 2 seconds. Caitlin Anders and Martine Henderson had amazing races shaving off nearly 6 seconds from previous times. Francesca Hallam Stott swam an incredible race achieving whooping 12 seconds improvement and moving up to third place in the
county rankings! Grace Massingham swam a solid 2 second PB.
In the 100 IM, the only swimmer who achieved a personal best time was Ava Reed by nearly 2 seconds!
Well done swimmers!