16 Club Records and 8 County Records Smashed in Deventio Meet
Submitted by

Maciej

on Wed, 2017-04-19 10:38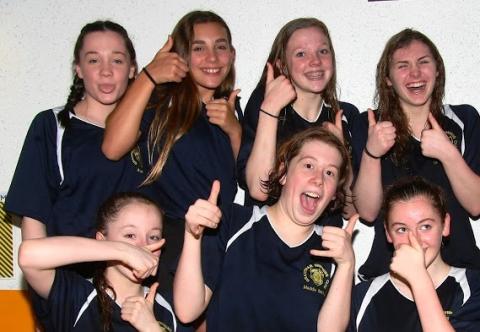 As a result of hard training, swimmers broke an amazing number of county, club and personal records. Abigail Farkas, achieved a new PBin the 200 butterfly and her ranking now might suggest that Abby is getting ready for British Champs this year. Abigail also improved her 200 IM by a solid 3 seconds and the 100 backstroke by a whopping 11 seconds! Abby also set 3 new long course records – all of them in the butterfly.
Caleb Mackey and Thomas Lewis both improved their PBs in the 50 free. Caleb also swam a very good 100 breastroke (nearly 40 seconds PB) which will certainly help him in his main event – 400 IM.Caleb also swam a strong 200 free and was just shy of breaking 2 minutes. Inthe 400 free he achieved a 6 second PB. Caleb broke 3 club records: 50 free, 200 free, 400 free and a county record in the 100 breast. Thomas Lewis also broke 3 club records: 50, 100 and 200 backstroke. Well done!
Katie Rundle had a very respectful swim in the 400 free where she achieved a PB by over 10 seconds, in the200 fly by 5 seconds and in the 400 IM by 7 seconds in which she is now ranked 47th in Britain!
Abbie Philips and Lara Hawkes both had stunning 200 breastroke races, going comfortably under the 3-minute mark. Abbie also set a new long course club record.
Alisha Tyers again reminded us of her talent with cracking 50 and 100 breastroke races (both new club records) and 50 and 100 free, the latter in which she achieved a great 3 second personal best time. Alisha has now a chance to qualify for this year Nationals!
Billy Reed again clocked a solid personal best time in the 200 IM by 4 seconds and the 200 BR by nearly 6 seconds to move up to the top 25 in Britain. Billy also set a county record in the 50 breastroke and club records in the 50 breast, 50 fly, 50 back and 100 back. Wow!
Maddie Barnes swam a superb 200 butterfly achieving PB by nearly 7 seconds!
Mia Ellis swam a solid 100 breastroke in which she achieved a new best time.
Evie Turner was not intimidated by the much older swimmers and achieved great time in the 200-backstroke improving by 19 seconds and by 10 seconds in the 200 free! Wow!
James Dobney had a solid swim in the 200 breastroke, shaving off 5 seconds and in the 100 fly by 4 seconds.
Well done also to Aidan Wright (county record the in 200 breast, 200 IM and 400 free), Sophie Culpin (county record in the 50 and 100 fly) and Luke Marriott (county record in the 200 back).
Well done!