4 Club Records Broken in Poznan International Meet
Submitted by

Maciej

on Wed, 2017-04-26 14:46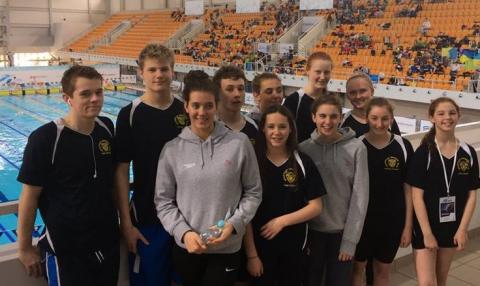 For the first time in club history, our fastest swimmers travelled abroad to compete in an international gala in Poznan. Despite the fact that it was tiring and a completely different experience swimmers still achieved valuable results. 
Freya Colbert managed to win a medal in the 400-free open final and even broke a record in the 200 free. 
Molly Colbert set new records in the 200 and the 400 free, progressing to the final in a very prestigious 150-meter freestyle event, in which she won prize money. 
Caleb Mackey won medals in the 200 and 400 IM and broke a club record in the 100-free going under 56 seconds for the first time. 
Sophie Culpin swam well in the 200 free and the 50 fly and finished second in the 200-fly final.
Thomas Lewis and Luke Marriott both achieved new PBs in the 50 fly and 100 free. 
Sofia Breeze achieved a good (nearly 3 seconds) personal best in the 200 IM, over a second in the 100 back and shaved off a second in both the 50 backstroke and 100 breast.
Jemma Housego swam in the combined age group but still managed to progress to the finals in the 50 free and 50 fly - new PBs in both races. Jemma and Iona Colbert swam very well in the 200-free achieving an over 2 second improvement. Iona also added one personal best time in the 50 fly.
Evie Turner finished second in the 100 backstroke!
Hayley Milne also gained valuable experience throughout all her races.
Well done to all of you!