Freya Colbert Sets Second Place in 400 IM in British Ranking While Others Break 15 Club Records and 4 County Records During Age Group Midland Championships
Submitted by

Maciej

on Fri, 2017-05-05 10:51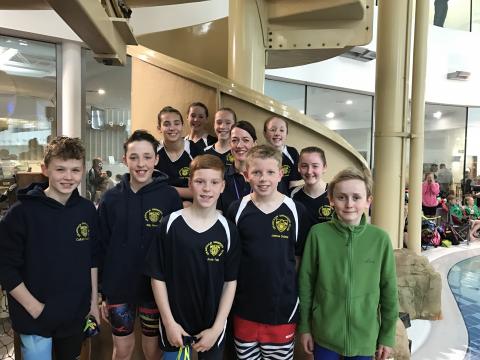 With the largest number, ever of qualified swimmers the club showed its strength again.
Freya Colbert delivered some outstanding performances with great maturity. Freya broke 5 club records, 1 county record in a stunning 400 IM (second fastest time in British rankings) and in the 400 free with a 6 second personal best (third in British rankings).
Billy Reed broke an amazing 7 club records (50 free, 50 back, 200 back, 50 breast, 50 and 100 fly and 200 IM) and 3 county records in the 200 IM and the 50 BR. Billy achieved a strong 3 second PB in the 100 fly and a nearly 4 second PB in the 100 BR. After Midlands Billy is now ranked 14th in 200 IM in the British rankings and 16th in the 200 breastroke. Impressive!
Iona Colbert swam very well in the 50 backstroke (a new county and the club record) and in the 200 IM, a great 6 second improvement.
Jemma Housego broke the 50-backstroke club record and clocked a strong 5 second PB in the 200 IM.
Katie Rundle made the finals and swam a very strong 200 IM with a 6 second improvement.
Archie Tagg despite just recovering from illness, swam a strong 50 backstroke race in which he achieved respectful improvement.
James Dobney swam a great 400 IM and 200 fly, progressing to the finals and finishing in 6th place with a 21 second PB! Nice job James!
Connie Philips swam great 50 and 100 FLY races, setting new personal best times and nearly making a final in the 100-meter fly heat, being a year younger that other finalists.
Evie Turner, debuting at Regional Championships swam a strong 200 FLY shaving off nearly 2 seconds.
Mia Ellis swam a strong 200 IM with a 16 second PB. Callum Lees also swam well in the 200 fly.
Callum Melville unfortunately struggled due illness but swam his races bravely.
Congratulations swimmers!