Joshua Clarke, Billy Reed and Callum Lees win the top swimmer of the Grantham Grand Prix while James Coleman and Logan Melville qualify for the first time for County Champs
Submitted by

Maciej

on Tue, 2017-05-16 08:07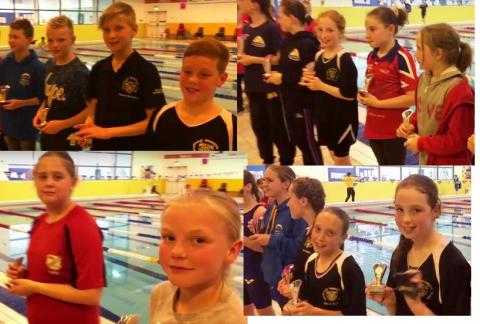 It was the final round and swimmers had to swim their best to place in the top six awarded places. Boys started with 100 IM. Joshua Clarke, James Coleman, Logan Melville and Oliver Doughty all recorded significant improvements with Oliver shaving off an enormous 13 seconds!
In 50 fly Alex Hallam-Stott bettered her time by a fantastic 5 seconds and Emily Parkins by 8 seconds! Absolutely impressive swims!
In 50 free Kaelin Smith went under 36 seconds for the first time, with over 2 seconds personal best. Other great improvements – Joshua Theobald, Tom Berwick, Thomas Perks, Ethan Wright (over 3 seconds PB!), Jake Baty, Logan Melville, Daniel Thompson and Finn Hance. Well done!
In 50 backstroke Grace Davies had a stunning swim with nearly 11 seconds improvement! Wow!
James Coleman and Jake Baty swam an impressive 50 breastroke. James improved his previous time by a stunning 5 seconds (and achieved his first county time!!!!) while Jake improved by over 4 seconds! Logan Melville also swam his first County time and also in 50 breastroke! Great job boys!
In 200 free Mia Ellis swam a great, solid race going strongly under 2.30 bettering her previous time by nearly 5 seconds. Chloe Daybell was third from Grantham shaving off solid 3 seconds. Other fantastic swims in this event – Evie Whitfield (9 seconds off), Alex Hallam-Stott (nearly 5 seconds off), Francesca Hallam-Stott (9 seconds off), Emily Parkins (the biggest improvement by a whopping 18 seconds), Grace Davies (9 seconds off), Ava Reed (9 seconds off) and Alexandra Theobald (13 seconds off). Amazing swims girls!
Billy Reed was the only swimmer who broke a club record - in the 200 IM. Joshua Theobald and Cade Barends both achieved massive improvement of over 10 seconds! Impressive! Tom Berwick had a great race with 10 seconds PB and Vadims Molcanovs over 3 seconds.
In 12 years old girl category Jemma Housego finished fourth and Mia Ellis sixth. In 11 years old girls Connie Philips came third ahead of Chloe Daybell (fourth) and Evie Turner (fifth). In 10 years old Evie Whitfield finished sixth while Grace Turner won a trophy for the third place in the youngest category.
Congratulations to Callum Lees for winning top male in 12 year old age group. In lower category Billy Reed came first, Callum Melville third, Vadims Molcanovs and Archie Tagg sixth. In the youngest category – 9 years old boys – Joshua Clarke finished on the highest place, Logan Melville just two points behind in second and Oliver Doughty sixth.
Congratulations swimmers!