Fantastic Swims by Grantham Swimmers at Tulip – Congratulations to Grace, Alex and Rosie for Qualifying for Counties for the First Time
Submitted by

Maciej

on Tue, 2017-05-30 10:23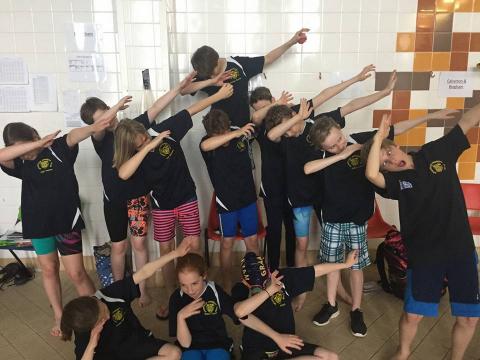 A great group of swimmers went to Spalding.
Grace Turner (2nd in the 50 breast and 2nd in the 50 fly) was the next young swimmer to secure a place in next year's County Championships in 50 butterfly. Grace achieved stunning progress by nearly 3 seconds in the fly race and is now the second fastest in the county ranking. Wow!
Alex Hallam Stott has shown great determination recently also qualifying for the first time for next year Counties in the 100-backstroke improving her previous time by a whopping 7 seconds.
Rosie Belcher swam a superb 100 butterfly, recording a stunning 9 second PB and claimed her first county time! Well done girls!!
Billy Reed managed to better his own club record in the 100 free – congratulations for another record Billy!
Mia Ellis dropped 3 seconds off her 100-free time, and nearly 6 seconds in the 100-fly final in which Mia finished 5th.
Chloe Daybell swam a great race in the 100-backstroke final finishing 3rd and the fastest from Grantham, achieving a new PB by over 6 seconds. Great Chloe!
Chloe Hopkinson finished 2nd in the 100 breastroke final with a very solid 2 second personal best time.
In the 100 breastroke final Billy Reed came first, Callum Melville second, Vadims Molcanovs third and Cade Barends fourth with an astonishing PB of 11 seconds! Cade also dropped 8 seconds in the 100 IM! Vadims also swam a great 50 free, which was faster than this year's Midland qualifying time! Next year Vadims!
George Berwick comfortably came 1st in 100 breastroke (new PB!) but also showed good progress in other strokes. In the 100 backstroke George came 2nd in the final with a nearly 4 second improvement! Watch George swim the 400 IM now!!!
Francesca Hallam Stott again impressed with a 10 second improvement in the 100 backstroke.
Well done to Logan Melville and James Coleman for coming 3rd and 4th in the 50 breastroke final! Nice boys! Logan is now leading the county rankings!
Evie Whitfield continues to improve with a very solid 4 seconds PB in the 100 IM and 4 seconds in the 100-fly final in which Evie came first.
Callum Melville came second in the 100-free final with an astonishing PB of nearly 9 seconds! Impressive!
Tom Berwick – fantastic swim in the 100 free with a 5 second improvement! Hard work is starting to pay off!
Well done also to Ava Reed, Lucy Baker, Elina Molcanova, Emily Parkins, Edward Bellamy, Isabel Bellamy, Callum Lees and Katie Beardsmore for achieving great results too!
Well done!