43 Medals, 6 Club Records Broken and 1 New County Time by Youngest Swimmers at Coventry
Submitted by

Maciej

on Thu, 2017-07-13 14:30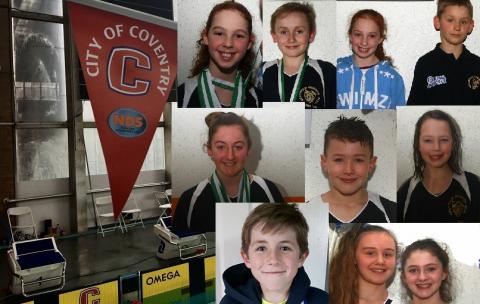 For many swimmers it was the first time they have competed in a long course gala.Coventry appeared to be a fast pool for our swimmers. Joshua Clarke broke the 100m and 200m freestyle club records and just missed out in the 50m free. However Josh qualified in 50 free and 50 fly for County Championships. Good job!
Logan Melville broke club records in the100m and the 200mbreastroke, continuing the family breastroke tradition. Well done!
Grace Turner continues to impress with super-fast 50m fly (the fastest time this year in the county rankings and a new club record) and 100m backstroke (another club record).
Callum Melville swam very well in the 100m breastroke achieving the 32 fastest time for his age group in the British rankings. Great job!
Congratulations to Chloe Daybell who finished fastest as 11 years old girl with a collection of gold medals and strong PB times.
Well done to Jemma Housego (gold in the 200m free and the 100m back), Cade Barends (nice 50m back and 50 fly), Callum Lees (numerous gold medals with valuable times!), Emily Parkins (very impressive 200m free and 50m fly), Nicolas Breeze (gold in the 200m fly), Ava Reed (strong 200m free and a bronze medal in the 200m breast!), Evie Whitfield (a respectful time in the 200m free), Francesca Hallam Stott (nice 200m back!), Alex Hallam-Stott (solid 100m fly!), Chloe Hopkinson (nice 100m free and the fastest time this year in the County in the 200m breast! Wow!), Mia Ellis (nice 100m free!), Isabel Bellamy ( a strong 50m back), Evie Turner (very solid 100m fly and gold in the 200m back), Beth Gibson (a strong 200m breast and 100m free), Max Kowalski (good 50m fly), Edward Bellamy (nice improvement in all strokes!), Thomas Perks (valuable times in all his events) and Katie Beardsmore (nice 200mbreastroke).
It was a valuable experience for all of you!