Last club championships of the season full of records and some new County qualifiers
Submitted by

Maciej

on Sun, 2017-07-23 14:02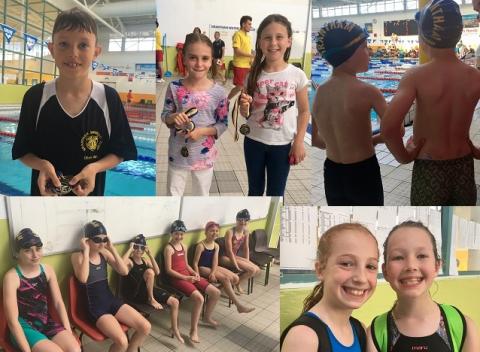 The final day of the club champs was fast again. Swimmers were chasing County times and there are already 55 swimmers qualified for Counties while we had 44 swimming last year! Well done swimmers!
Freya Colbert was the only swimmer who broke a county record in 50 butterfly and this is a great indication before British Championships starting at the end of the month.
There were 14 club records broken and Freya broke 3 of them in events of 200 backstroke (4th fastest time in Britain), 50 fly and 200 IM (the fastest time in Britain this year and second fastest time in all age groups achieved this year at County). We can be sure of the great performance at Nationals!
Abigail Farkas added 2 club records in 50 and 100 fly, with 100 fly being in the top 20 in Britain. This is also great prognostic before 200 fly at British Championships. Well done Abigail!
Molly Colbert, despite injury, added a valuable club record in 100 free.
Billy Reed broke the biggest number of club records - in 100 free, 200 back, 100 fly and 200 IM (13th fastest time in Britain!). Well done Billy what consistency!
Kendall Wilkins is still too fast for all Grantham swimmers in 50 fly, setting a new club record. Caleb Mackey who came second in 50, came first in 100 butterfly claiming another club record and going under a minute for the first time!
Thomas Lewis managed to better his own club record in the event he will swim at English Nationals.
If someone thought that Freya's records are not breakable, they would be proven wrong by Grace Turner who bettered Freya's record in 100 butterfly with 41st fastest time in Britain and improving by stunning 23 seconds! Very impressive Grace!
Congratulations also for swimmers who broke championships gala records: Freya Colbert, Molly Colbert, Alisha Tyers, Connie Philips, Abigail Farkas, Thomas Lewis, Kendall Wilkins and Caleb Mackey.
Well done to our 2 new county qualifiers: Max Kowalski in 50 breastroke (7 seconds improvement and second fastest time at County) and Joshua Theobald in 50 fly (5th fastest time at County). Great job boys!
There were also many very respectful personal records broken.
In 200 IM Iona Cobert showed her strength with 8 seconds improvement with the fastest time in County and 32nd fastest in Britain! Wow! Hannah Berwick in her last club champs improved by 11 seconds, Chloe Hopkinson by 15 sec (4th fastest in County), Isabel Bellamy by 8 seconds, Grace Turner by 6 seconds (5th fastest in County) and Emily Parkins by impressive 17 sec and Emily Buck by 11 sec. Excellent times girls!
Alisdair Henderson keeps improving shaving off nearly 6 seconds in 50 fly . Kaelin Smith improved over 6 seconds and now he is 3rd fastest at County! Ethan Wright improved in this event by 4 seconds, Oliver Doughty by 16 seconds (impressive!), Max Kowalski by 10 seconds (impressive!).
Chloe Hopkinson has had an astonishing end to the season and Chloe again clocks another impressive PB in 200 breastroke by over 5 seconds which gives her lead in the county ranking. Wow! In 200 breastroke there were many valuable improvements: Martine Henderson by 5 seconds, Isabel Ballamy by 15 sec, Connie Philips by enormous 43 sec (and third place in County), Katie Beardsmore and Evie Turner – both improved by 10 sec, Francesca Hallam Stott by 34 sec and Alex Hallam Stott by solid 9 sec.
In 200 backstroke boys delivered some massive swims. Riley Taylor and Nicolas Breeze both bettered their own times by great 12 seconds, George Berwick and Callum Lees by 9 seconds (watch them next season doing 400 IM!!!), Vadims Molcanovs by 28 seconds (wow!), Cade Barends by 16 seconds, Edward Bellamy by 10 seconds, James Coleman by 41 seconds and James is now 6th fastest time in County! Impressive boys! Congratulations also to Oliver Bailey, who swam a brave 200 backstroke which is the fourth fastest time for 9 years old boys!
Emily Parkins shows consistent improvement in 50 fly (by 2 sec), Emily Buck (by nearly 4 sec) and Grace Davies (by 4 sec). Well done!
Kaelin Smith again swam a great race in 50 breastroke improving his PB by 3 seconds (third time in county), Thomas Thornton swam confidently dropping 4 seconds and Oliver Bailey 6 seconds. James Nichols is now fastest 8 years old in County in this event and Zach Hopkinson third. Well done boys!
In 50 breastroke Millie Bailey improved the most by great 14 seconds, but it was not fast enough for another 8 years old, Evie Twelvetree, who swam it for the first time and achieved a time 5 seconds faster than Millie. What a great competition! Well done to Alex Theobald for shaving off solid 5 seconds!
In 25 free it was Millie Bailey who had to give everything to hold off Evie Tvelvetree. Both girls improved accordingly by nearly 5 and nearly 6 seconds in such short distance! Very good!
In 200 IM the biggest improvement was recorded by Nicolas Breeze (12 seconds off), Riley Taylor (17 seconds off), Joshua Theobald (7 seconds off and 4th fastest time in County ) Edward Bellamy (7 seconds off) and Jake Baty nearly 10 seconds off! What a great progress boys!
Alasdair Henderson (10 seconds off) and Kaelin Smith (9 seconds off) improved the most in 100 butterfly while Kaelin again moved up in the county ranking to the third place. Nice!
Caitlin Anders had a cracking 100 butterfly shaving off amazing 14 seconds! Wow! Well done to Alex Hallam Stott for improving her time by 4 seconds.
Tom Berwick fantastically improved in 200 breastroke by 15 seconds but it was not yet fast enough to qualify for Counties. Next time Tom! James Coleman improved by enormous 58 seconds. Our 9 years old swam brilliantly so 4 fastest swimmer in 200 breastroke in Lincolnshire are: Logan Melville, Max Kowalski, Oliver Bailey and Thomas Thornton! Wow!
Beth Gibson improved the most in 200 backstroke bettering her previous time by whooping 48 seconds. Isabel Bellamy was shining throughout the whole day improving her PB by stunning 9 seconds, Caitlin Anders by 8 seconds, Martine Henderson by fantastic 15 sec, Evie Whitfield by 11 sec and Grace Turner by 8 sec.
In 100 free Joshua Clarke improving by 34 seconds just narrowly missed a club record but it was enough to become the fastest in the County. What a swim Joshua! Riley Taylor improved by 5 seconds, Thomas Perks by 10 sec, Oliver Doughty by 13 sec and Oliver Bailey by 17 sec. Well done also to Samuel Parker for achieving a very respectful time!
In 100 free Gracie Massingham shaved off solid 5 sec, Grace Turner 8 sec, Emma Purdy fantastic 12 sec. Millie Bailey and Evie Twelvetree both swam this race for the first time and with the very good times now they are 2 fastest 8 years old swimmers in the county! Well done!
Well done swimmers! You deserved now the summer break!