Grace Turner and Iona Colbert smashed club records during the Senior Lincs League
Submitted by

Maciej

on Wed, 2017-10-04 11:10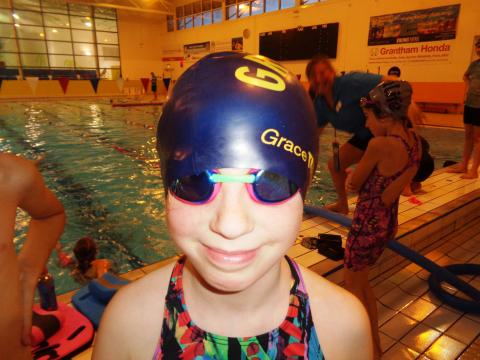 Still so early in the season but records are getting broken. Grace Turner swam under 40 seconds in 50 butterfly claiming first place in her race, a new club record and unofficially the fastest time in the county this year. Wow!
Iona Colbert again bettered her personal best time in 50 backstroke setting a new club record which also unofficially would be the fifth fastest time in Britain this year!
Caleb Mackey is getting closer to the club record with a new PB in 100 free. Abigail Farkas, in the same race, also shaved a bit off her best time.
Edward Bellamy has taken full advantage of his new squad and showed a nice improvement by over a second in 50 backstroke.
Joshua Clarke again clocked a massive personal best in 50 butterfly (nearly 2 seconds) and Callum Melville nice PB in 50 breastroke becoming 10th fastest breastroker in our club. I do not think Callum will be satisfied with this!
Iona Colbert showed great concentration during training sessions and her work on skills paid off with a nearly 2 seconds improvement in 50 breastroke.
Beth Gibson and Callum Lees both nicely improved their 100 backstroke.
Emily Parkins also improved by over a second 50 backstroke!
Ava Reed strongly improved her 50 breastroke by nearly 2 seconds while Tom Berwick also improved by 2 seconds in 50 free. It might be just enough to secure their selection in the junior league!
Evie Turner delivered small PB in 50 backstroke.
Well done swimmers!