Grace Turner breaks another 2 club records in the Leicester Meet while Callum Melville swims one of the fastest times in Britain
Submitted by

Maciej

on Wed, 2017-10-11 08:07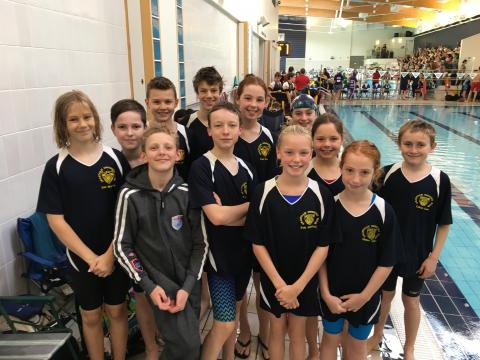 Grace Turner had a fantastic start to the season showing solid progress in all her strokes. For Grace it was a time to shine in breastroke where she smashed the club records from 2007 in 50 (PB by over 2 seconds) and 100 (nearly by 5 seconds). Grace also improved 200 free (2 second off), 100 IM (4 seconds off), 50 back (2 seconds off), 100 back (11 seconds off), 200 fly (12 seconds off) and 200 back (3 seconds). Impressive!
Callum Melville showed great speed and moved up to 7th place in Britain in 50 breastroke going under 39 seconds! Impressive!
We recorded strong improvement in 50 free – Evie Turner (nearly 2 seconds off), Isabel Bellamy and Katie Beardsmore (both nearly second off).
In 100 butterfly Callum Melville and Thomas Perks achieved personal bests by nearly 2 seconds this season! It is a strong early improvement! Thomas also improved the most out of boys in 100 backstroke by an amazing 3 seconds!
In 100 breastroke our boys set a great pace. George Berwick, Callum Melville, Cade Barends and Edward Bellamy all improved by nearly 2 seconds. Thomas Perks, however, stormed his swim and dropped 15 seconds! Wow!
In 50 breastroke George Berwick shaved off a solid second, while Cade Barends and Niall Brown bettered their times by nearly 2 seconds!
Callum Lees, so early in the season, decided to swim 200 butterfly and dropped a respectable 2 seconds.
Cade Barends and Edward Bellamy both had amazing 200 backstroke races. Cade shaved off nearly 6 seconds and Edward nearly 4 seconds! Fantastic!
George Berwick had a strong 200 IM (over 2 seconds off) and Cade Barends improved by 4 seconds. Thomas Perks again recorded the biggest improvemant by nearly 10 seconds! If Thomas keep improving at this rate we will have another county qualifier!
In 200 breastroke George Berwick delivered a great swim and improved by over 2 seconds! Well done George! Callum Melville however dropped 5 seconds and Samuel Leveridge 9 seconds! Great swims boys!
Emily Parkins improved nicely in 100 backstroke by a very strong 4 seconds!
George Berwick also improved his 50 fly which shows that he will be very strong later in the season. Niall Brown, Samuel Leveridge and Tom Berwick all clocked new PB times.
Thomas Perks again shined in 100 IM bettering his previous time bny staggering 7 seconds!
Francesca and Alex Hallam-Stott both respectably improved in 50 breastroke by nearly 2 seconds. Well done sisters!
The boys made some nice surprise improvements in 100 free. Callum Melville improved by over a second coming first out of Grantham swimmers, but Niall Brown dropped 3 seconds, Sam Leveridge 4 seconds and Edward Bellamy 2 seconds!
In 200 fly it was time for Turner family. Evie dropped 10 seconds and she is currently second in the county ranking while Grace dropped 12 seconds! Wow!
Sam Leveridge also swam well 50 backstroke (over 2 seconds PB), Emily Parkins 200 IM (amazing 7 seconds off!), Thomas Perks 200 free (7 seconds off), Edward Bellamy (3 seconds off) and Callum Melville 200 free (nearly 13 seconds off!).
Excellent swimmers!