Some great swims in the club champs – Abby Farkas and Billy Reed both broke club records while Tom Berwick and Elijah Halliday qualified for the first time for County Championships
Submitted by

Maciej

on Wed, 2017-11-01 19:05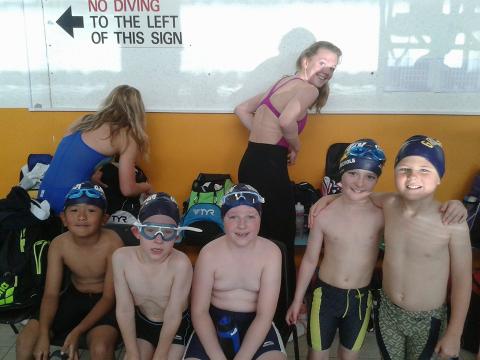 The first Club Champs was our first major gala to showcase the benefits of the new season of training. Also, for most of our swimmers, it is a chance to qualify for County championships. Big congratulations to Tom Berwick (100 IM and impressive 7 seconds personal best!) and Elijah Halliday (50 breastroke) who qualify for the first time for the Counties. Well done boys!
Abby Farkas showed good confidence in 100 butterfly breaking a club record and setting the fastest time in the county in her age group. Billy Reed achieved a great 11 seconds personal best which was enough to break a club record. His time is the second fastest in the county. Well done!
Congratulations to Connie Philips for breaking a championship record with the fastest time this year in the county. Well done to Logan Melville who broke a championship record in 100 backstroke with the second fastest time in Lincolnshire and his brother Callum Melville who broke a record in 50 breastroke securing his lead in the county in this event. Well done swimmers!
Thomas Thornton showed a massive improvement in the whole gala. Thomas clocked the biggest time improvement of all the swimmers in 100 IM, by an absolutely stunning 13 seconds! Kaelin Smith also swam a strong race and shaved off 9 seconds! Samuel Leveridge added another great grace and took off a very respectful 7 seconds!
Katie Rundle moved up to the top in the 400 free ranking with a new personal best time. Connie Philips (now 2nd in the county) shaved off 13 seconds while Evie Turner over 10 seconds. Katie Beardsmore had a stunning race where she clocked 20 seconds personal best! Well done also to swimmers who raced this event for the first time – Chloe Hopkinson, Martine Henderson, Beccie Bailey, Evie Whitfield, Rosie Belcher, Becky Creedon, Sophie Leveridge, Emma Purdy, Grace Davies, Amy Crook and Charlotte Gill!
In 50 free again it was Thomas Thornton who improved the most by... nearly 6 seconds! Well done Thomas! Zach Hopkinson held off James Nichols with over 5 seconds personal best time, coming first in the 8 years age group. Well done to William Brummit and Max Kowalski for respectful swims, each with a new PB by over 3 seconds!
In 50 breastroke Cora Farley improved by an enormous 26 seconds! Harriet Monaghan this time shaved off a very good 6 seconds. Sophie Leveridge and Elina Molcanova improved by 5 seconds and Emily Buck and Amy Crook both improved by great 4 seconds! Excellent breastroke skills!
James Dobney, with a small personal best time in 100 butterfly, secured his first place in the county ranking in 13 years age group. Billy Reed in the younger category also swam the fastest time this year in the county. In the 11 years age group Callum Melville seeds first and in 9 years age Max Kowalski achieved fastest time in county at club champs! All of them are from Grantham! Impressive!
Archie Tagg also swam a great 100 fly achieving the biggest improvement by very solid 5 seconds! Well done!
Katie Rundle is now first in the Lincolnshire ranked swimmers ranking in 100 butterfly, Connie Philips and Evie Turner (new PB) are now number 1 and number 2 in that county in 11 years age group and Grace Turner with a new PB moved up to the first place in 10 years age group. Wow! Martine Henderson improved the most out of all – by amazing 8 seconds! Caitlin Anders had a grace race (PB by nearly 5 seconds) and Beth Gibson (by nearly 4 seconds). Well done!
In 50 breastroke it was a battle between Benjamin Buck and George Berwick – both went under 36 seconds for the first time and it is exciting to see what they can do in 100 breastroke in the next gala! Billy Reed showed some fast strokes and regained his first place in the county ranking. Callum Melville in 11 years age group is still the only swimmer that can swim under 39 seconds. In 9 years age group Logan Melville holds first place after the club champs. The biggest improver in this event was this time Oliver Doughty (over 7 seconds) but Oliver Bailey and Thomas Thornton swam some solid personal best times and are getting very close to county qualifications! Well done boys!
Harriet Monaghan and Alex Theobald improved the most in 50 free by amazing 7 seconds! Millie Bailey swam a great race shaving off great 5 seconds and Sophie Leveridge by nealy 5 seconds. Cora Farley with a new personal best is the quickest 8 years old swimmer this year in county! Excellent!
Sophie Leveridge again improved the most. This time in 100 backstroke by a fantastic 18 seconds! Wow! Chloe Hopkinson raced strong, bettering an old time by 4 seconds. Emma Purdy and Harriet Monaghan both swam great races and both improved over 4 seconds! Nice!
Jake Baty improved the most in 100 backstroke by an amazing 6 seconds. Samuel Leveridge shaved off over 4 seconds and Oliver Bailey nearly 3 seconds! Nice job!
Alisha Tyers showed her talents coming first in 100 IM with a new personal best time holding off Abigail Farkas and Maddie Barnes. Chloe Hopkinson had a stunning race taking off 4 seconds. Connie Philips and Evie Turner both improved their times and now are ranked 1 and 2 in county. The biggest improver this time was again Sophie Leveridge with a stunning 12 seconds PB! Alex Theobald, Emma Purdy, Ava Reed and Becky Creedon – all improved by amazing 9 seconds! Emily Parkins also had an impressive swim where she bettered her previous time by 7 seconds! Well done also for Charlotte Gill for swimming it for the first time! Nice girls!
The 400 free tests swimmers stamina and mental toughness. Ben Buck came first out of all the boys even though he was swimming it for the first time. James Dobney took 15 seconds off which gives him the fastest time this year in the county. Callum Lees improved by 22 seconds, Vadims Molcanovs by 16 seconds and Samuel Leveridge by 22 seconds! Stunning swims!
Zach Hopkinson came first in 25m backstroke bettering his time by 2 seconds. Well done to Jacob Fish and Matty Bogan for debuting in the club champs with strong races!
Congratulations to Millie Bailey for coming first in 25 meters backstroke and Evie Twelvetree for coming first in 25 meters breastroke with new personal best times. Lucy Davies had stunning 25 backstroke (4 seconds off) and 25 breastroke (8 seconds off). Cora Farley improved by a second in 25 breastroke. Surely you are all the shining future of the club!
Congratulations to Orla and Phoebe Connery, Alexa Wright, Elena Aldenhoff-Kelly, Charlotte Gill, Jordyn Jones, Ruby Goode, Jessica Sharp, Jessica McMahon, Lucy Davies, Jacob Fish, Alex and Matty Bogan, Brandon Smith, Zak Walker, William Gray and Thomas Watson for debuting in the club champs and showing great competitive spirit!