Great day of the club champs – we have now 55 swimmers qualified for Counties 2018
Submitted by

Maciej

on Wed, 2017-11-15 18:45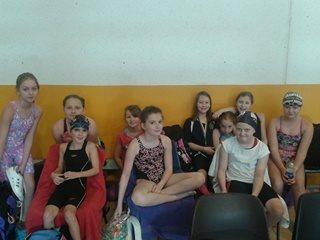 It was another successful day of our club champs. Big congratulations to Emily Parkins and Thomas Perks for qualifying for the first time ever for the county championships! Excellent work swimmers!
The first race of the day was 400 IM – it is always a race when swimmers from Grantham do well. It was no different this time.
Nicolas Breeze starts to believe more in himself and swam 12 seconds personal best. George Berwick and Ben Buck both swam for the first time and smoothly achieved County times in their first attempt. It was also a Midland time for George. Billy Reed improved his previous time by 11 seconds (16th fastest time in Britain and a new club record), James Dobney by 11 seconds (fastest time in County ranking) and Callum Lees by a stunning 18 seconds (second fastest time in the County). Callum Melville also swam well achieving the fastest time in his age group in the County and also achieving a new Midland time! Fantastic job boys!
The girls did a stunning job too. Maddie Barnes set a new club record finishing comfortably first. Katie Rundle, with a new personal best time, is now the fastest in her age group in 400 IM. Iona Colbert swam an utterly brave race and is now, not only the fastest in the County but also 20th in the whole of Britain! Wow! Chloe Hopkinson and Chloe Daybell were debuting in this event and still performed well, being now 5th and 7th in the County ranking! Well done girls! Evie Turner showed mental toughness powering through her race and achiving the fastest time this year in the County and a new Midland time. Well done also to Beth Gibson, Caitlin Anders, Evie Whitfield, Beccie Bailey, Rosie Belcher and Becky Creedon for racing strong this demanding event. Beccie set a new County Masters record in her age group! Fantastic!
Thomas Lewis showed great spririt, challenging number 1 ranked in the County Caleb Mackey, in 200 free, by shaving off a respectful 3 seconds. Samuel Leveridge achieved a great personal best time by nearly 15 seconds and becoming a major factor in his age group. William Wardle swam a very decent race (13 seconds off) as well as Kaelin Smith (6 secons off) and Edward Bellamy (7 seconds off). Joshua Clarke, by dropping 8 seconds, broke a championship record and is second ranked in the County, just margins off County champs qualification. He will do it at Boston! Other great races were swam by Viraj Deorukhkar (7 seconds off), Logan Melville (20 sec off), Oliver Doughty (14 sec off), Max Kowalski (24 sec off), Jake Baty (10 sec off), Elijah Halliday (20 sec off), Alex Walker (9 sec off), James Nichols (22 sec off), Thomas Thornton (15 sec off) and Daniel Thompson (15 sec off). What an amazing progress!
Abigail Farkas showed good competitiveness improving by nearly 2 seconds in 200 free, trying to challenge Molly for the top place. Alisha Tyers must have a super power to improve her time by over 3 seconds! Evie Turner delivered 5 seconds personal best and it is enough for the second spot in the County ranking. Isabel Bellamy improved by an amazing 7 seconds and Alex Hallam-Stott by nearly 5. Emily Parkins gave everything, bettered her previous time by impressive 18 seconds and just narrowly missed the County time. Emily - do it in Boston! Other fantastic races were recorded by Grace Turner (11 seconds off), Becky Creedon (29 sec off), Emily Buck (nearly 6 seconds off), Grace Davies (nearly 8 seconds off), Ava Reed (11 sec off), Cora Farley (16 sec off), Alex Theobald (12 sec off) and Harriet Monaghan (stunning 26 sec off)!
Nicolas Breeze demonstrated a significant improvement by nearly 4 seconds in 50 backstroke. Joshua Clarke also must have been working on his skills as he improved his previous time by over 3 seconds (third fastest time in County!). Oliver Doughty and Thomas Thornton both achieved very respectful times bettering their previous ones by over 3 seconds.
In 50 backstroke, 12 years old Iona Colbert came first with a blistering time of 32 seconds. This is not only fastest in her age group, but this is also the fifth fastest time in the Open age group in Lincolnshire and 7th in her category in Britain! One second faster and Iona will be top in Britain! Amazing! Iona and Molly Colbert both set new club records. Well done. Katie Rundle improved respectfully by 2 seconds, Katie Beardsmore by nearly 3, Becky Creedon by nearly 4, Grace Davies by 3, Sophie Leveridge by nearly 5, Hannah Renshaw by 8 and Ava Reed by 4 seconds. The biggest improvement was recorded by our youngest swimmers – Evie Twelvetree by 29 seconds (which puts her second in the County ranking), Cora Farley by 12 seconds and Millie Bailey by nearly 14 seconds.
Caleb Mackey had to give everything again to hold off Thomas Lewis in 100 free. Caleb went under 54 seconds for the first time and is now first ranked in Lincolnshire. Thomas impressively bettered his time from 56 to 54 seconds! Nice! Samuel Leveridge shows absolutely constant improvement. This time Sam took off nearly 6 seconds and his time places him third quickest in the County. Joshua Clarke smashed his swim with 6 seconds improvement and now with a new championship record Josh ranks first in the County! Oliver Doughty improved nicely by 4 seconds, Max Kowalski by 21 seconds and Oliver Bailey by 5! Great!
Martine Henderson recorded another nice personal best in 100 front crawl by 4 seconds. Emily Parkins had to dig very deep to shave off nearly 10 seconds to secure her first ever County qualification time. Grace Turner improved by 5 seconds. Well done to Becky Creedon for improving by nearly 7 seconds, Grace Davies by 5 sec, Alex Theobald by 18 sec, and Harriet Monaghan by 12 sec.
Alasdair Henderson shows steady improvement and in 50 fly Alasdair achieved the biggest improvement among the older boys shaving off over 2 seconds. Joshua Clarke this time improved by 5 seconds and is now fastest in the County ranking! Thomas Perks, going for his first County time, dropped 4 seconds down (moving up to 5th place in Lincolnshire). Max Kowalski improved by a solid 5 seconds and secured another county time. James Nichols being just 8 yrs old, swam this race well and now is the fastest person in his category in the County! Congratulation to James and Joshua Clarke for both breaking championships records. Wow!
Congratulations to Abigail Farkas for a new club record and also the fastest ever time recorded in our club in 50 butterfly. Well done to Sofia Breeze for 4 seconds personal best, Beth Gibson 3 seconds and Emily Parkins over 4 seconds. Great job goes to Connie Philips and Grace Turner for securing first place in the County ranking.
George Berwick keeps improving in breastroke and with his new personal best time in 100m by nearly 2 seconds is now in contention to medal at Counties (as long as he does not have his own plan). William Wardle stormed in the breastroke event and improved by a stunning 14 seconds! Wow! Again Samuel Leveridge was among the top improvers. This time Sam took off nearly 7 seconds. Max Kowalski improved his time by over 10 seconds, and is now fastest in the County but just shy off the county qualifications. James Coleman improved by 4 seconds, and Elijah Halliday by nearly 8 seconds. Nice!
Alisha Tyers again upset the top swimmers, coming first in 100 breastroke shaving off nearly a second from her previous personal best time. Chloe Hopkinson also improved by 1 seconds and secured her lead in the County ranking. Iona Colbert improved by 4 seconds and she is now third in county. Martine Henderson also improved nicely by 4 seconds, Caitlin Anders by 3, Evie Turner by 7, Grace Turner by nearly 2 to move up to the third place in theCcounty ranking. Ava Reed and Emily Parkins both had a superb race, shaving off 5 and 6 seconds respectively, but unfortunately just missed County qualifications! In Boston it will happen! The biggest improver was Becky Creedon by 24 seconds and Sophie Leveridge by 18 seconds!
In 25 butterfly Millie Bailey came first improving by an excellent 8 seconds, and holding off Cora Farley who improved by nearly 4 seconds. Well done to Hannah Dobney who joined the club few days ago and still won a bronze medal!
Congratulations also to everyone who swam well at Skins. Well done to Alisha Tyers, Thomas Lewis, Iona Colbert and Billy Reed. Well done also to Hannah Berwick for finishing top of the Berwick family.