Ava Reed is the last County qualifier during Boston Open while Grantham wins Top Visiting Club Award
Submitted by

Maciej

on Mon, 2017-11-20 17:47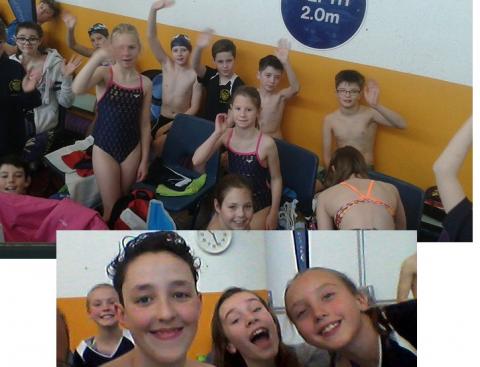 It was the last meet for swimmers to qualify for the 2018 County Championships. Ava Reed was the last swimmer from Grantham to qualify for Counties making our total number of qualified swimmers of 56, exceeding our target by 1 swimmer. Ava was the best example how you can achieve things if you are truly determined. Ava swam 100 breastroke in June in 1.56 which was 7 seconds off the County time. In our recent club champs Ava lowered this time to 1.49 just a less than a second off of the needed time. At Boston Ava showed that everything is possible and achieved another 4 seconds personal best achieving 9th fastest time in County! Wow!
Most of the swimmers had to simply swim faster than recently in the club champs so it truly was a test of motivation and determination.
And yet the swimmers showed that they can do it and there were many that achieved several new county times.
Callum Melville (4 seconds PB) and Sam Leveridge (stunning 23 seconds PB) both swam an impressive 200 IM. Cade Barends and Joshua Clarke (another County time) also dropped another few seconds off their best times.
Katie Rundle, throughout the whole meet, showed astonishing racing commitment. In 200 IM Katie achieved a new personal best by 3 seconds, in 100 IM by 1 second and in 200 backstroke by 4 seconds! Nice!
In 200 breastroke again our swimmers showed dominance. Chloe Hopkinson, with the fastest time in the County, achieved another personal best time by nearly 4 seconds! Martine Henderson showed strength, shaving off an impressive 5 seconds! Caitlin Anders and Evie Turner this time both bettered their old times by 3 seconds! The most impressive swims were again delivered by our youngest swimmers. Sophie Leveridge achieved an enormous personal best by 11 seconds, Emily Buck by 9 seconds and Grace Turner by over 7 seconds and now has the third fastest time in the County!
Well done also to Alasdair Henderson (stunning 9 seconds off), Samuel Leveridge (5 seconds off) and Oliver Bailey (whopping 19 seconds off!) in 200 backstroke.
In 200 butterfly we had a few respectable results. Maddie Barnes broke the 2.30 barrier for the first time improving by a solid 4 seconds. Chloe Hopkinson still has to work on her skills but this time Chloe clocked 9 seconds personal best. Grace Turner, improving with a very rapid pace, this time achieved a personal best time by an impressive 12 seconds!
400 free again shows who has been training hard. Chloe Daybell simply was on fire and improved her time from the recent club champs by nearly 8 seconds. It is a County time but just outside the Midland time. Evie Turner this time improved by 6 seconds and Katie Beardsmore by 8 seconds. Wow!
In 400 free it was again Samuel Leveridge who simply can not stop improving! This time it was an impressive 8 seconds improvement.
Amy Crook is promising swimmer who wants to simply improve. Amy, in 100 free, swam a stunning 13 seconds PB.
Sophie Leveridge in 200 free improved massively by 31 seconds! Wow! Rosie Belcher improved by 11 seconds and Grace Turner by 3 seconds and it was enough to get another County time.
Martine Henderson had a stunning 200 IM with a new personal best by over 7 seconds! Wow! Other great swims: Alex Hallam-Stott (PB by 4 seconds), Grace Turner (by 3 seconds), Evie Turner, Sofia Breeze, Chloe Hopkinson (all new PB by nearly 3 seconds). Well done!
In 200 breastroke George Berwick is making a significant move. This time George took off over 3 seconds and now is secure as third fastest in the County. We will not stop there! Oliver Bailey, again just margins off the County time, but with a stunning 10 seconds improvement and third fastest time this year in County.
In 50 butterfly Emily Parkins showed superb confidence and achieved a new county time dropping off 3 seconds! Amy Cook was debuting in the meet but this did not stop her from swimming hard. In 50 butterfly Amy achieved stunning 8 seconds PB! Ava Reed and Alex Theobald both had nice races, each improving by a few seconds.
Joshua Clarke had a smoking fast 50 free, going for the first time under 37 seconds!
Alex Theobald also had impressive swim in 100 breastroke bettering her old time by a whopping 18 seconds. Sophie Leveridge also improved by over 3 seconds.
Ethan Wright unfortunately did not get a Ccounty time but he had some solid races, especially his 100 free where he improved by over 6 seconds.
Evie Turner surely is getting ready for Counties and in her best stroke, backstroke, improved over 200 meters by nearly 6 seconds. Other impressive swims: Chloe Hopkinson (bettered PB by 5 seconds), Alex Hallam-Stott (by stunning 7 seconds), Grace Turner (by 5 seconds), Emily Parkins ( by 6 seconds) and Sophie Leveridge (by enormous 31 seconds).
Nicolas Breeze showed steady improvement by bettering his 200 butterfly by over 2 seconds. Cade Barends, in this event, achieved a massive 33 seconds improvement.
Francesca Hallam-Stott had a strong 100 butterfly and clocked a best time by over 3 seconds.
Alasdair Henderson had a very respectful 100 breastroke shaving off 3 seconds.
Oliver Bailey was another swimmer who, despite his age, showed great ability to race to his best. Although Oliver did not achieve a County time he improved his 100 breastroke by 4 seconds, coming first in the 9 years old age group and moving up to 4th place in the County ranking!
Jacob Allen was the quickest from Grantham in 100 IM with a new personal best.
In 100 backstroke Samuel Leveridge keeps impressing with a new personal best time by nearly 4 seconds, Tom Berwick by 3 seconds (just margins off the County time) and Oliver Bailey by 2 seconds just outside the qualification and 4th fastest time in County. Nice job well done!
In 200 free George Berwick bettered his time by nearly 2 seconds Cade Barends by a great 5 seconds! Solid progress!
Thomas Perks shows great confidence in racing achieving another County time in 100 butterfly improving by over 6 seconds! His time is currently 3rd fastest in County! Wow!
Well done swimmers!