19 County times and 3 Midland times achieved in the Club Champs Long Distance
Submitted by

Maciej

on Thu, 2017-11-30 17:50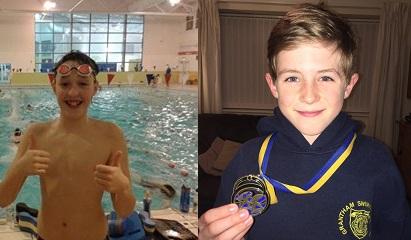 Joshua Clarke was one of the brightest swimmers of the day. Joshua, only 9 years old, showed no fear and raced strong all the way achieved new club records in splits in 400m and 800m free. His time in 1500m is also a new club record and third fastest achieved in Britain in his age group.
Billy Reed showed another inspiring performance. Not only because Billy broke 800m and 1500m club records but because despite being ill and being forced to reduce number of sessions Billy (only 12 years old) came first out of all boys from Grantham. Sometimes you have stamina and sometimes you have only pure determination to rely on. Impressive Billy! Billy improved by 30 seconds since previously swam it and his time is 16th fastest in Britain. What Billy can do when fully fit? We will see at Counties.
The biggest improver over this distance was George Berwick who bettered his old time by stunning 96 seconds. Nicolas Breeze also is showing improved stamina and swam PB by 82 seconds, Callum Lees by 78 seconds and James Dobney by 34 seconds.
The 800 meter race showed great maturity of Molly Colbert and Abigail Farkas (new club record). Both showed everyone how to strongly execute the race. Abigail shaving off 13 seconds achieved 3rd fastest time in the County ranking and Molly 4th fastest time with great improvement of 32 seconds. Well done to Maddie Barnes for 23 seconds improvement, Iona Colbert who showed 69 seconds progression (3rd quickest in County), Mia Ellis with 16 seconds off, Chloe Hopkinson and stunning nearly 2 minutes improvement and Connie Philips (new championships record), Evie Turner and Chloe Daybell – all new personal best time by a minute.
Congratulations to Evie Whitfield and Grace Turner for swimming it for the first time with a great spirit!
Well done swimmers!