With 14 club records and 16 gold medals Grantham is leading the Lincolnshire County Championships by just 2 points
Submitted by

Maciej

on Fri, 2018-01-26 11:39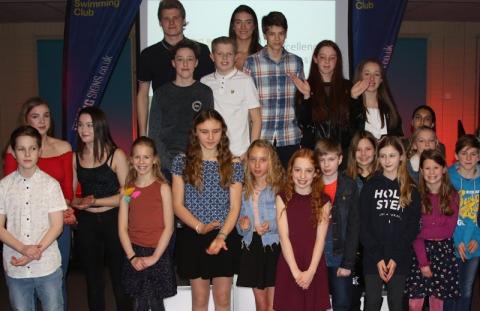 It was a tough gala as a big number of swimmers either were ill or were recovering from being ill.
Molly Colbert set a great example to the rest of the team mates and showed resiliance and maturity. Our club captain won with a stunning time in 200 free and 400 free and came second in 200 breastroke. Great swims!
Joshua Clarke debuting at Counties was absolutely strong! Swimming against older boys Joshua still achieved 12 seconds personal best time in 100 butterfly and 7 seconds PB in 100 IM. Wow!
Cade Barends smoothly made the 100 fly final where he dropped an amazing 9 seconds and there is still room for more! Kaelin Smith also improved over 5 seconds in 100 fly!
Callum Melville improved 200 breastroke by 11 seconds and Callum is now ranked 11th in Britain!
Well done to Connie Philips and over 6 seconds improvemant in 200 free.
Evie Turner was full of confidence this time - every swim was a massive personal best time. Evie shaved off stunning 8 seconds in 200 free, 18 seconds in 400 IM (25th fastest time in the British ranking!) and 10 seconds in 400 free. Excellent Evie!
Caitlin Anders bettered her 200 breastroke by over 6 seconds and now is just seconds off the Midland qualifying time! Martine Henderson also improved her time and is now chasing the same Midland Time as Caitlin.
Chloe Daybell also showed others how to swim BR by shaving off 6 seconds in 200 breastroke and being margins outside Midland time.
Grace Turner being ill still managed to shine especially in 200 breastroke where Grace achieved whooping 8 seconds PB!
In 400 free George Berwick dropped 7 seconds, James Dobney 6 seconds and Billy Reed 5 seconds.
In 400 IM George Berwick (was not afraid to swim 400 free and 400 IM in the same day!) again bettered his time by over 7 seconds while Nicolas Breeze by 6 seconds and Billy Reed 5 seconds.
Abigail Farkas shaved off 8 seconds in 400 free and Iona Colbert 13 seconds.
Congratulations to Chloe Hopkinson for qualifying for the first time for Midland Championships!
Well done to swimmers who broke club records - Iona Colbert in 50 backstroke (11th fastest time in British ranking), Abigail Farkas in 100 fly (22nd in British ranking), 400 free, Maddie Barnes in 200 breastroke, Molly Colbert in 200 free (23rd in British ranking) and 200 breast. And boys who broke the club records are Joshua Clarke in 100 fly (8th fastest in Britain!), in 100 IM (23rd in British ranking!), Billy Reed in 400 free, in 100 IM, in 400 IM (21st in British ranking) and Archie Tagg in 50 backstroke.
Well done for swimmers who became the Lincolnshire county champions - Molly Colbert (4 golds), Billy Reed, Evie Turner, Iona Colbert(2 golds each), James Dobney, Connie Philips, Katie Rundle, Callum Melville, Hayley Milne and Chloe Hopkinson (1 gold each).
Molly Colbert is leading the medal table with 4 golds and 2 silver medals. Billy Reed is second with the biggest number of medals - 2 golds, 4 silver medals and 1 bronze. The medal table is attached.
Well done swimmers!