With 11 club records and 41 gold medals Grantham is 10 points in the lead after second weekend of 2018 County Championships
Submitted by

Maciej

on Tue, 2018-02-06 16:15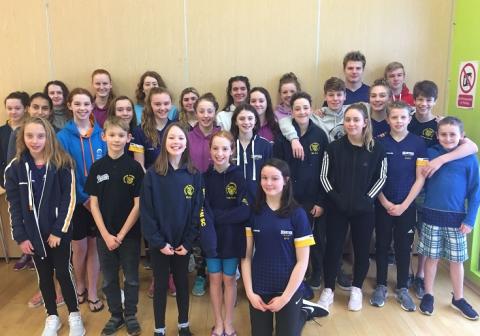 Can Grantham do it again? Surely swimmers made a strong statement this weekend. We showed determination, motivation and ability to give everything, which is what was needed to build such a lead.
Billy Reed had to fight one of the strongest age groups. Still he dominated in breastroke events winning this weekend both the 50 and 100 breastroke with the impressive style. He improved in 100 breastroke by over 2 seconds, 200 backstroke by impressive 7 seconds, 200 IM by 3 seconds, 200 fly by 5 seconds. Billy also broke 2 club records. Hard training pays off Billy!
Molly Colbert kept the great quality she had shown previoulsy, over the weekend. A Bronze-medal-winning swim in 100 breastroke (nearly 3 seconds PB) and dominant victory in 100 free. Molly broke club records in 100 free, 200 backstroke and 100 breastroke. Well done!
Callum Melville showed some great racing spirit, also winning all his breastroke events. In 50 breastroke Callum is now ranked 3rd in Britain and 15th in 100 breastroke. Absolutely stunning performance! Callum also swam well in 200 backstroke (3 sec off), 200 IM (3 seconds off) and 100 backstroke (3 seconds off)!
Often it is simply down to finding the confidence to race well. George Berwick was solid throughout the Counties, improving all of his breastroke events. George also improved his other strokes like 200 backstroke by 10 seconds and 200 IM by 5 seconds! At Midlands it will be even better!
James Dobney won the Junior Championship trophy for 200 butterfly after a fierce pace in the second half of the race and achieving 3 seconds PB. James also had a great 200 backstroke (PB by 5 seconds) and 200 IM (PB by nearly 5 seconds). Nice!
Callum Lees is still building the fitness after his break but he could still deliver a medal winning race in 100 breastroke shaving off nearly 3 seconds. Wow!
Abigail Farkas improved the most from the top squad in 200 IM - by over 2 seconds. In the same event Mia Ellis swam strongly (PB by nearly 5 seconds), Grace Turner, Frannie Hallam-Stott (both impressive PB by stunning 7 seconds), Chloe Hopkinson (PB by 2 seconds), Connie Philips (PB by 5 seconds) and Martine Henderson (PB by 3 seconds). Evie Turner improved the most by an amazing 10 seconds and smoothly took the victory in her age group.
Evie Turner not only had to fight other swimmers but also food poisoning. Being sick after each race on Sunday was still it not an excuse for Evie to swim slower. In 100 breastroke Evie dropped great 4 seconds, in 200 backstroke absolutely prevailing and she improved by 9 seconds (21st in British ranking), 4 seconds off in 200 fly, 5 seconds off in 100 free, nearly 4 seconds off in 100 backstroke. What a stunning consistency!
Abigail Farkas broke a club record in 200 butterfly with the 8th fastest time in Britain and swam well in the 100 breastroke.
Mia Ellis also swam a very good 100 breastroke where she shaved off a stunning 5 seconds, 200 backstroke with 5 seconds off and 100 backstroke with nearly 3 seconds off. Nice!
Connie Philips fought well in the 100 breastroke final, improving her previous time by a respectful 3 seconds.
Martine Henderson did not have the best morning until the 100 breastroke final. She smashed her swim for a medal and her first Midland qualifying time! Congratulations Martine!
Cade Barends also gaining some valuable experience. He reached a few finals and some very respectful swims – especially 100 backstroke with a very respectful 3 seconds PB.
Elijah Haliday debuting at Counties swam a confident race achieving a new personal best time in 50 breastroke! Well done!
Thomas Lewis had his target to win 200 backstroke. He not only did this, but also achieved a new club record and also held off tough competition to win the 100 backstroke!
Grace Turner clocked 3 seconds personal best in 200 backstroke, stunning 5 seconds in 200 fly, 3 seconds in 100 free and over 2 seconds in 100 backstroke. Nice!
Chloe Daybell was again shining in 100 breastroke, finishing just outside the Midland time with 4 seconds PB. Similarly Caitlin Anders who improved by over 2 seconds is still chasing regional qualifying times. Next time girls!
Frannie Hallam Stott shaved off a stunning 6 seconds in 200 backstroke and nearly 10 seconds in 200 butterfly and 3 seconds off in 100 backstroke! Impressive!
Alex Hallam-Stott had a great 200 butterfly where she bettered her previous PB by nearly 6 seconds and 100 backstroke with over 2 seconds PB!
Chloe Hopkinson swam great 50 and 100 breastroke, finishing just shy of the gold medal position. You will do it Chloe at Midlands! Chloe also swam very well in the 200 butterfly where she achieved a massive PB by 6 seconds, 100 free and 100 backstroke improvement in both by 3 seconds!
Evie Whitfield showed some good skills in 200 butterfly and set a new PB by a very respectful 5 seconds!
Emily Parkins was also debuting at Counties but it did not stop her smashing 100 free, made a final, got 4 seconds PB and won her first medal! Emily also achieved 2 seconds personal best time in 50 breastroke and was just shy of a medal. Wow!
Joshua Clarke had to compete in combine age group 10-11 being still only 9 years old so nobody really expected any medals from him. However Joshua had different plans. After a disappointing DQ and losing out on a medal at Grantham Joshua came to Louth with even more determination. In 200 IM Josh improved by amazing 10 seconds (23rd in British ranking), in 50 free Josh shaved off nearly 3 seconds and got his first silver medal (15th fastest time in Britain), in 50 breastroke 2 seconds off, in 100 free whooping 7 seconds off (10th time in Britain) and at the end of the Sunday session he still reached for extra energy and smashed 50 fly by over 3 seconds (12th fastest in Britain). Joshua also broke 3 club records! Absolutely impressive!
Nicolas Breeze achieved his first ever Midland time in 200 fly with a 6 seconds personal best time! Congratulations!
Maddie Barnes stuck to the hard training and stayed patient to see the results. And they came at Counties. A very respectful PB in 100 (a new club record) and 50 breastroke which puts her back in the National qualifying contention.
Iona Colbert after Counties in Grantham was out of the pool due to illness. She came back just days before Counties and this time she was pushing herself to the limits. In 200 backstroke a very respectful win with 4 seconds improvement and 200 fly again a win with stunning 10 second off. Well done!
Hannah Berwick might not consider going to University after a cracking swim in 200 backstroke (nearly 3 seconds PB) and 100 back (2 seconds PB).
Katie Rundle delivered respectful PB in 100 backstroke claiming the gold medal.
In the medal table we won, so far, an impressive 41 gold medals, 45 silver and 45 bronze. Iona Colbert leads the Grantham medal table with 7 gold and 5 silver medals ahead of Evie Turner with 5 gold 5 silver and 1 bronze medal. Billy Reed has won the biggest number of medals – 14 – with 4 gold, 6 silver and 4 bronze. Well done guys!
Unofficially Grantham leads the 2018 County Championships by 10 points. It will be down to the swimmers competing in 800/1500 meters in 2 weeks! It will be close!