First round of Grand Prix showed strength of our youngest swimmers
Submitted by

Maciej

on Tue, 2018-02-13 10:57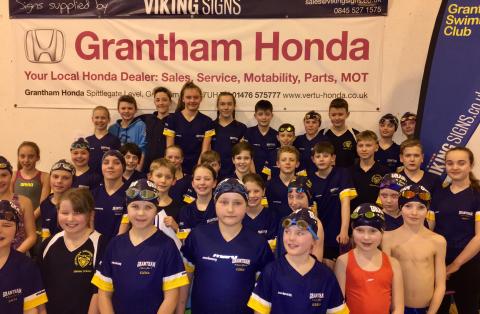 In the first event - 200 free - swimmers could demonstrate how much their fitness had improved since they swam it last time. Joshua Clarke improved by an astonishing 13 seconds – just outside the club record with the second fastest time achieved this year in our County. Thomas Thornton has earned a lot of excellence letters in training thus he showed also the biggest improvement in 200 free. Thomas shaved off a stunning 21 seconds in his race! Wow! Daniel Thompson, although he accidentally stopped after 6 lengths, still delivered a respectful performance and improved by over 12 seconds. Max Kowalski, Oliver Bailey and Elijah Halliday all improved by over 5 seconds. Well done! Zach Hopkinson, Zak Walker, William Gray all swam bravely for the first time this event!
Among the older boys Billy Reed showed dominance and came first. He also swam a new personal best, having just achieved this at Counties. Billy's time was also a new Grand Prix record. Callum Melville, Sam Leveridge and Cade Barends all swam impressive swims bettering their times by over 6 seconds. For Callum and Sam there were also new Midland times! Thomas Perks, showing strength after coming back from injury, improved his PB by 9 seconds, while Ethan Wright improved greatly by nearly 8 seconds. Tom Berwick was shy of going under 3 minutes with a new PB by over 3 seconds! Well done boys!
Millie Bailey came first out of Grantham girls in 100 IM holding off Cora Farley who achieved great 11 seconds personal best time! Well done also to Elena Aldenhoff-Kelly, Hannah Dobney, Jessica McMahon, Harriet Monaghan and Jessica Sharp. Some of you might get DQ but you have lots of time to learn how to do it and you still showed some brave racing!
The older girls competed in 200 IM. Chloe Hopkinson won this event but it was Chloe Daybell who surged strong with a nearly 3 seconds personal best time and again just outside the Midland time. Evie Whitfield achieved a fantastic time shaving off nearly 9 seconds and Emily Parkins over 13 seconds! Great swims! Ava Reed swam bravely her race and achieved the fastest time from the county development squad. Alex Theobald had a stunning race where she achieved nearly half a minute improvement. Emma Purdy swam superbly with 14 seconds PB, Emily Buck with 8 seconds PB and Alex Hallam-Stott with 4 seconds PB. Well done also to Grace Davies, Orla Connery and Alexa Wright for brave swims!
Cade Barends smashed his old time in 50 butterfly and unfortunately just missed the Midland time by the fingertip. Sam Leveridge also improved his time by great 2 seconds. Thomas Thorton, James Nichols, Elijah Halliday all clocked over 2 seconds new PB. Now James Nichols is the quickest ranked swimmer in his age group in 50 butterfly in Lincolnshire! Wow!
The biggest improved swimmer in 50 free was Elena Aldenhoff-Kelly with a new personal best time by stunning 7 seconds! Alexa Wright also smashed her old time by a whooping 6 seconds. Cora Farley again showed strength and bettered her previous time by 5 seconds. Other fantastic times came from Jessica Sharp and Ava Reed (both clocked improvement by over 3 seconds), Millie Bailey, Alex Theobald, Grace Davies, Sophie Leveridge, Emily Buck, Emma Purdy (all achieved a new PB by over 2 seconds).
In 50 backstroke Sam Leveridge and Cade Barends both showed great speed and improved by over 2 seconds. Oliver Bailey shaved off nearly 3 seconds, Thomas Thornton and Max Kowalski impressive 5 seconds, James Nichols, William Grey and Daniel Thompson by over 2 seconds! Excellent swims boys!
In 50 breastroke it was again Ava Reed with most impressive swim and PB by over 3 seconds. Emma Purdy and Alex Theobald also swam stunning races with new PB by 4 and 6 seconds accordingly. Grace Davies and Millie Bailey both swam great PB by 5 seconds. Millie is now second fastest swimmer in Lincolnshire in her age group! Nice! Alexa Wright keeps improving and this time she swam 10 seconds quicker! Wow!
Excellent job swimmers!