Another big day for Grantham during the long distance at County Championships
Submitted by

Maciej

on Tue, 2018-02-20 08:43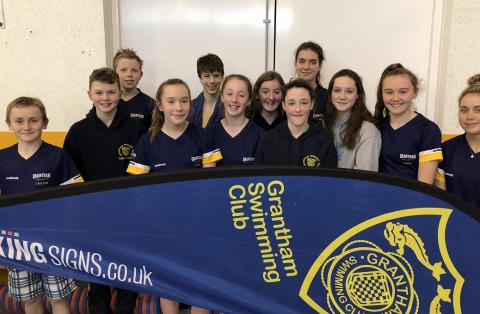 We needed superb performances in the last day of the County Championships in our quest of defending the title of the Best Swimming Club in Lincolnshire. Still some of our top swimmers could not swim due to illness.
And the swimmers swam like County Champions. Out of 11 swims there were 9 impressive personal best times! Swimmers improved all together by over 330 seconds! Grantham won the biggest amount of medals (10 – of which 5 were golds!) and we scored 22 points which was 7 points more than South Lincs and 11 points more than Vulcans.
George Berwick delivered a silver medal in a brave swim and achieved a new Midland qualifying time. George bettered his time from November by an astonishing 50 seconds, achieved a time under 18 minutes for the first time and finished the fastest male swimmer in our club in the 1500.
Billy Reed had an absolute tough competition but he managed to come third, breaking 800 and 1500 meters club records with the 11th fastest time achieved this year in Britain! Billy is the second swimmer in our club who went under 18 minutes in this event. Wow!
James Dobney delivered a strong swim for a gold medal! James had to achieve a new PB by a stunning 31 seconds! In the same age group Callum Lees touched the wall on the third position with a great 24 seconds improvement!
Callum Melville made the whole team stand up with his nerve-racking race. Callum did not feel well before the race but he wanted to deliver for the club. His lead was shrinking till the last meters and it was down literally to the last stroke. Callum won a gold medal by 0.3 second! Impressive! Callum, despite not feeling well, still managed to better his old time by 80 seconds and achieved also a new Midland time!
Molly Colbert, in the 800 free, had a perfect race despite coming back from illness. She still did not feel great in the Thursday morning session. It did not stop her having an impressive swim with a new PB by nearly 14 seconds, winning a gold medal, achieving a new club record and a new Midland time and 8th fastest time in Britain! Wow!
Iona Colbert also had a great swim proving that she deserved a place in a Midland squad! She was not the fastest seeded but she was desperate to come first and she did. A 19 seconds PB, a gold medal swim, a new club record, a new Midland time and 30th fastest time in Britain!
Connie Philips surely made a nice surprise by showing great commitment in her race. Connie smashed her old PB by an awesome 27 seconds, winning a silver medal and with the 34th fastest time in Britain! Wow!
Katie Rundle added a bronze medal in 800 free, Chloe Hopkinson swam an 11 seconds PB and Lara Hawkes showed some great racing spirit.
Swimmers - you did amazing indeed!