Grantham finishes third in the junior lincs league with some impressive swims
Submitted by

Maciej

on Sat, 2018-03-17 09:50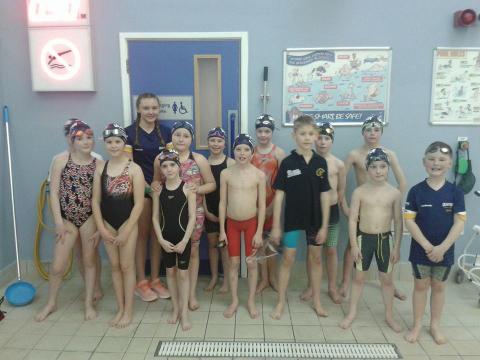 Connie Philips again showed some great talent and excellent racing skills. In 50 butterfly Connie smashed her old personal best time, just missing out on a club record, and moved up to the fourth place in the British ranking. Well done Connie!
Besides Connie we had plenty of exceptional swims. Well done goes especially to our youngest swimmers who are the future of the club.
Millie Bailey, Evie Twelvetree, Cora Farley and Phoebe Connery came first out of 8 teams in 100 free and 100 Medley relays! Excellent!
Also Phoebe Connery in her individual race (25 free) achieved a great improvement by a stunning 4 seconds!
Zach Hopkinson swam twice and twice improved his previous times. In 25 free he clocked nearly 3 seconds PB and half a second in 25 backstroke.
Alexa Wright and Max Kowalski both shaved off nearly 2 seconds in 50 breastroke.
James Nichols also swam twice. In his first race 25 breastroke James took off anamazing 4 seconds and in 25 butterfly almost 2 seconds!!!
Harriet Monaghan improved 50 backstroke by nearly 3 seconds! Nice swim!
Oliver Bailey also shows steady improvement this time in 50 backstroke by nearly a second.
Thomas Thornton has settled into the new training squad well and he now shows the benefits of hard training. Thomas in 50 free achieved 5th fastest time in the County this year dropping a very respectful 4 seconds!
Evie Turner achieved a small PB in 50 backstroke.
Elena Aldenhoff-Kelly shows great commitment in training which resulted in a fabulous race in 50 free and a new PB by over 5 seconds.
Cora Farley did not breathe in the first three strokes in 25 butterfly and achieved a new PB by over a second.
Millie Bailey swam very well in 25 backstroke improving by nearly a second.
Well done also to Grace Turner, Joshua Clarke, Callum Melville, Samuel Leveridge for winning their races.