More Midland times and some excellent improvement in the second round of Grand Prix
Submitted by

Maciej

on Thu, 2018-03-22 17:26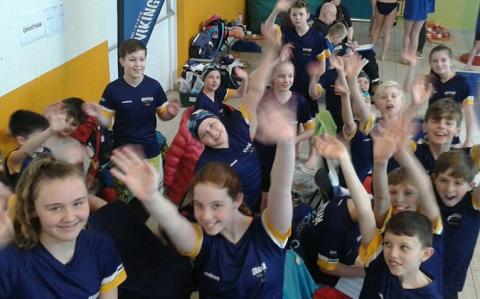 Callum Melville used the Grand Prix as the final test before the Scottish National Championships and he surely passed the test exceptionally well! Callum is currently fourth quickest in the club in 50 free and 16th in the British ranking thanks to his stunning improvement of nearly 2 seconds. It is also a new Grand Prix record. Callum's 200 IM was also impressive! Callum dropped a great 9 seconds which puts him up to 7th place in Britain! Excellent!
Cade Deaves surely shows some great fitness. Cade is chasing Midland times and with 2 seconds PB in 50 free, 3 seconds in 50 breastroke and amazing 12 seconds PB in 200 IM this is a great sign before Cambridge!
Well done to the boys who achieved great improvements in 50 free: Daniel Thompson (impressive 10 seconds off), William Gray (4 sec off), Jake Baty, Oliver Bailey, Elijah Halliday (all over 2 sec off), James Nicholas (great 5 seconds off and fifth fastest time in County) and Logan Melville (nearly 2 sec off).
The most impressive swims in 50 breastroke came from James Nichols (stunning 9 seconds PB and 2nd place in County), Tom Berwick (nearly 4 seconds PB and now fifth fastest swimmer in County), Thomas Thornton (over 4 seconds PB and also fifth place in the County ranking), Oliver Doughty (nearly 7 seconds PB!!!), Zach Hopkinson (nearly 3 seconds off) and Josh Theobald (nearly 2 seconds off).
In 200 IM Tom Berwick decided to swim fast . Very fast. Tom not only achieved an incredible 14 seconds personal best but also 4th fastest time in our County!
Edward Bellamy also swam very well in the 200 IM shaving off nearly 9 seconds, and Ethan Wright over 12 seconds! Great swims boys! Well done also to all of the swimmers who swam bravely this event for the first time. Thomas Thornton achieved a time which puts him 5th in the County, Oliver Bailey was just a finger tip behind and is now 6th, Logan Melville is 7th. Well done also to Elijah Halliday and William Gray for very their solid times!
In 100 IM our youngest boys showed they can swim all 4 strokes well. Max Kowalski with a new PB by over 10 seconds is now 5th fastest in the County and James Nichols, improving by a whooping 16 seconds is now 2nd. Zach Hopkinson was swimming well and shaved off a respectful 6 seconds!
In the 9-10 year old girls 200 free Grace Turner was the quickest with a new PB by over 3 seconds. Ava Reed must be doing something right in training because her time dropped by a stunning 16 seconds. Sophie Leveridge improved by anamazing 12 seconds, Alex Theobald by 32 seconds (!!!!), Cora Farley by 22 seconds (the quickest time in the County) and Millie Bailey also by 22 seconds (third fastest time in the County). Congratulations for brave swims to Orla Connery, Elena Aldenhoff-Kelly, Hannah Dobney, Harriet Monaghan and Jessica McMahon.
In 50 butterfly nobody was close to Connie Philips who broke the Grand Prix record, but Chloe Hopkinson swam fast enough to secure another Midland time in this event.
Other great swims in 50 butterfly: Chloe Daybell (2 sec off), Grace Davies (whooping 10 sec off), Ava Reed (2 sec off), Emily Buck (nearly 4 sec off), Alex Theobald (3 sec off) and Cora Farley (nearly 5 second off and the fastest time in the County!).
In 50 backstroke Evie Turner claimed the first place, with Connie Philips close behind, improving by over a second and securing second place in the County ranking.
Well done also to Grace Turner (2 sec PB), Grace Davies (nearly 4 sec PB), Ava Reed (stunning 5 sec PB), Orla Connery (over 4 sec PB), Alex Theobald (nearly 4 sec PB), Cora Farley (3 sec PB and 2nd fastest time in the County), Millie Bailey (3 sec PB and 3rd fastest time in the County), Alexa Wright (stunning 9 sec PB), Elena Aldenhoff-Kelly (4 sec PB) and Hannah Dobney (nearly 2 sec PB).
In 200 free it was Grace Davies who delivered the most impressive swim by clocking a new personal best by 19 seconds! Wow! Emily Buck shows good confidence and shaved off 10 seconds! Emily Parkins improved by a solid 2 seconds, Francesca Hallam-Stott by 3s and Evie Whitfield by 2s. Alex Hallam-Stott swam very well achieving a very respectful 5 seconds personal best! Chloe Hopkinson claimed another Midland time shaving nearly 4 seconds off since County Champs. Connie Philips (2 seconds off ) and Chloe Daybell (nearly 4 sec off) had also solid swims. Especially Chloe Daybell who showed improvement in all events and looks strong before Cambridge to chase the Midland time!
After 2 rounds we have plenty of swimmers in the top 6. Callum Melville moved up to the third spot in 12 years Age Group , Cade Deaves is fourth, Vadims Molcanovs is fifth and Billy Reed (unable to do the second round) is sixth. Among girls it is Chloe Hopkinson who is in the lead, Connie Philips is third and Chloe Daybell is fourth.
In the 11 years Age Group Samuel Leveridge is a confident leader, while among the girls only Alex Hallam-Stott is currently in the top 6, and is in the sixth position.
In the 10 years Age Group Joshua Clarke is second, Thomas Thornton third, Logan Melville and Oliver Bailey are joint fourth and Elijah Halliday sixth. Among the girls Grace Turner is currently second.
In our youngest category Max Kowalski is first and James Nichols is sixth.
Well done!
Now it is time to train harder than swimmers from other clubs and move up in the Grand Prix standings!