Chloe Daybell and Cade Deaves qualified for the first time for Midland Championships at Cambridge meet while others improved their personal best times
Submitted by

Maciej

on Thu, 2018-03-29 10:24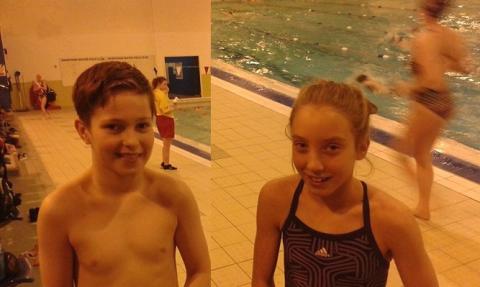 In Cambridge some swimmers were trying to qualify for Midland Championships. Chloe Daybell, after an exceptional race in 400 IM (over 9 seconds personal best and 4th fastest time in County) and 200 breastroke (also 4th fastest time in County) Chloe achieved, for the first time ever, Midland qualification times in these two events. Cade Barends also smashed his PB in 50 butterfly which is now faster than the Midland qualifying time and also 4th fastest currently in our County! Congratulations new Midland swimmers!
Josh Clarke broke a club record in 200 free – the record has stood since 2004! Amazing! Josh also improved by over a second in 50 backstroke.
In 50 backstroke Millie Bailey had an absolutely stunning race, dropping off nearly 4 seconds! This is the fastest time recorded this year in the County!
Swimmers also showed solid improvements in 100 free – Grace Turner by nearly 2 seconds, Cade Deaves by nearly 5 seconds, Sam Leveridge by over 3 seconds and Tom Berwick by nearly 3 seconds and Grace Davies by an enormous 10 seconds! Well done swimmers!
In 200 butterfly Alex Hallam-Stott nicely improved by 3 seconds, Grace Turner by over 7 seconds (4th fastest time in County) and Evie Whitfield by nearly 4 seconds! Cade Deaves bettered his time by an impressive 15 seconds! Wow!
Sam Leveridge shows that his fitness keeps improving. Sam achieved a new PB in 400 free by over 15 seconds! What a swim! Katie Beardsmore shaved off 8 seconds and Grace Davies by a stunning 21 seconds! Emily Parkins debuted in this event and comfortably broke the 6 minute mark with the third fastest time in County. This is a great debut Emily!
The biggest improvement in 100 breastroke was recorded by Grace Davies where she shaved off a stunning 11 seconds! Cade Deaves and Tom Berwick both added valuable PBs by 4 seconds. Well done boys!
Mia Ellis had a stunning 200 backstroke race (currently 4th fastest time in County) with nearly 5 seconds PB and 4 seconds inside the Midland qualifying time. We had also amazing swims delivered in this event by Alex Hallam-Stott (over 5 seconds off), Francesca Hallam-Stott (2 seconds off and third fastest time in County), Emily Parkins (5 seconds off) and Sophie Leveridge (2 seconds off). The boys also did well in this event, especially Sam Leveridge (nearly 5 seconds off) and Tom Berwick (nearly 10 seconds off). Impressive swimmers!
The fastest swimmer from Grantham in 200 free was Katie Beardsmore who improved by over 6 seconds. Emily Parkins and Grace Davies both bettered their times by over 3 seconds.
In 200 IM Chloe Daybell missed the Midland time by a finger nail, but still achieving a respectful PB by nearly 2 seconds. Rosie Belcher swam strong shaving off 3 seconds, Emily Parkins by 11 seconds, Katie Beardsmore by 7 seconds and Grace Davies by 12 seconds!
In 200 breastroke Cade Deaves swam a PB by 17 seconds! Nice job! Martine Henderson and Caitlin Anders both gave 100% and despite new PBs it was marginally off the Midland qualifying time. Mia Ellis had also a strong swim bettering her previous time by 4 seconds and Emily Parkins by 25 seconds!
Well done swimmers!