Chloe Daybell claims another 2 Midland times during third round of Grand Prix
Submitted by

Maciej

on Wed, 2018-04-11 09:32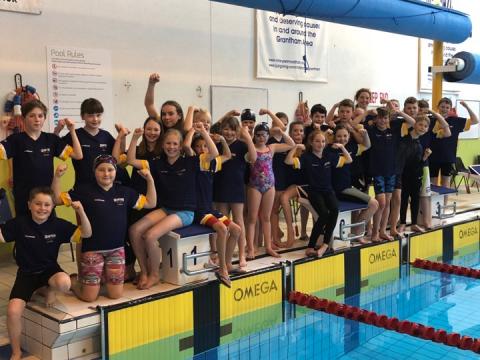 One of best performers in this round, some great swims were delivered by Chloe Daybell. Chloe came first in 50 breastroke and 200 IM (nearly 3 seconds personal best) achieving new 2 Midland times. The times are very valuable because the show an improvement since the recent meet in Cambridge. Chloe showed great confidence and is now 5th in the Lincolnshire ranking in both events.
Callum Melville broke the Grand Prix record in 50 butterfly becoming 5th fastest swimmer in this event in our club!
This round the boys swam 200 free and it was interesting to see how many have improved since the first round. Elijah Halliday improved the most shaving off nearly 15 seconds! Logan Melville improved by 13 seconds (5th fastest time in County), Thomas Thornton by 12 seconds and Max Kowalski, Oliver Doughty and Jake Baty by 10 seconds. James Nichols, with his stunning personal best by nearly 12 seconds, is now second fastest in the County ranking for his age group. Wow!
Thomas Thornton showed the greatest improvement in 50 butterfly bettering his time by over 5 seconds which puts him 6th in the County. James Nichols also had a great swim, shaving off over 4 seconds which is also second fastest time in his age group ranking. Well done also to Oliver Doughty (3 sec PB), Oliver Bailey (nearly 4 sec PB) and Elijah Halliday (nearly 3 sec PB).
The biggest improvement in 50 backstroke came from Logan Melville who improved nicely by over 2 seconds. Good swims were also had by Callum Melville, Daniel Thompson and Oliver Doughty – all achieved nearly 2 seconds PB.
Elena Aldenhoff-Kelly swam a very good 100 individual medley bettering her previous time by a great 5 seconds. the older girls swam 200 IM. Ava Reed smashed it with nearly 10 seconds PB. Alex Hallam-Stott achieved an astonishing PB by nearly 7 seconds. Emily Buck improved her time by 5 seconds while Grace Turner and Francesca Hallam-Stott by over 2 seconds. Grace Turner moved up in the County ranking to 6th place.
Jessica McMahon and Alexa Wright achieved the biggest improvement in 50 free. Both girls swam over 4 seconds personal best time! Well done! Grace Davies and Ava Reed also swam well, with over 2 seconds improvement! Well done girls!
Elena Aldenhoff-Kelly improved the most this time in 50 breastroke. Her new time is 4 seconds faster than time from the first round! Well done! Swimmers – Grace Turner, Evie Turner, Francesca Hallam-Stott, Emily Buck, Alex Hallam-Stott and Sophie Leveridge all improved by over 2 seconds! For Grace Turner it is also the second fastest time in the County this year!
Well done!