2 county records broken and number of medals at Age Group Midlands
Submitted by

Maciej

on Wed, 2018-05-02 15:48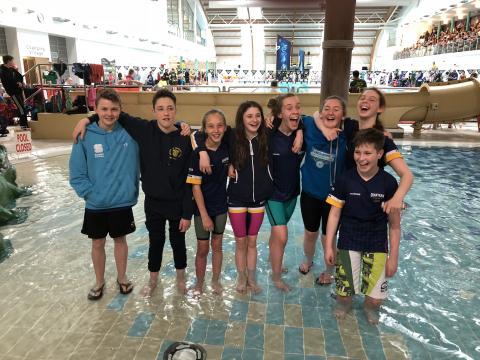 At Age Group Midlands Grantham's younger swimmers raced as you would expect the 2018 County Champions to race. Callum Melville was surely the strongest swimmer from Grantham. Callum dominated the breastroke events winning gold in 50, 100 and 200. The most impressive was 200 breastroke (25 seconds improvement and 4th fastest time in Britain) where Callum won the Junior Championship award achieving a faster time than any swimmer in the upper age group final. Callum also showed great performance in 400 IM (gold medal and 14th fastest time in Britain), 50 fly (excellent spirit in the final and silver medal with over 6 seconds PB) and finally 50 free (3 seconds off and narrowly missing a medal). Callum also finished second in the 200 IM final but unfortunately achieved DQ for one of the turns. We learn and move forward. For Callum the next step is the Scottish Summer Nationals. Well done Callum!
Connie Philips also fought well and scored some big times! Most impressive was her 100 butterfly, as she followed her Coaches instruction before the race. Our secret "magic 3" got her in the lead and she never let it go. Her new time is 9th fastest time in the British ranking for 12 year old swimmers. Connie also fought well for the silver in 200 fly final where she achieved stunning 7 seconds personal best time. Connie also swam well in the 200 free where she achieved nearly 10 seconds PB. Connie, in order to qualify for English Nationals, must however be in the top 44 in combined age group 12/13 years. Her ranking is currently 53rd in 100meters but only 0.5 seconds off the 44th place. It is still very much doable!
Evie Turner is another swimmer who is attempting to qualify for Nationals, being the youngest in the 12/13 age group. Evie achieved the biggest improvement out of Grantham swimmers in 200 IM – over 26 seconds and 200 fly – over 14 seconds! In her main events Evie came silver in 100 backstroke and gold in 50 backstroke after an impressive fight and nearly a second PB. In 200 backstroke Evie did not swim superbly in the heat and qualified with the slowest time to the final. In the final always the most determined swimmers will not only improve their times but also win medals. Evie was one of the most determined. From the slowest qualifying swimmer Evie moved up to third place, winning bronze with 18 seconds personal best time! Evie is now 15th in 100 backstroke and 31st in 200 backstroke in British ranking. In order to qualify for Nationals Evie also has to achieve again great improvement in coming meets!
Iona Colbert who is 13 seems to be secure for Nationals. Iona swam a strong 400 free and 200 free with 38 and 13 seconds improvement accordingly. Iona also swam solid 200 IM with nearly 5 seconds PB. Iona swam strong 100 backstroke winning silver and breaking a county record. It also put her 10th in the 12/13 age group in Britain.
Billy Reed showed signs of getting back to his best form after his injury. Billy broke a county record in 400 IM achieving an impressive 10 seconds personal best. Billy also swam new best times in 100 breastroke (3 seconds off), 200 free (4 seconds off), 200 IM (4 seconds off) and 200 breastroke (2 seconds off and 6th place in the final).
Well done also to Chloe Daybell, Chloe Hopkinson, Mia Ellis, Archie Tagg, Jemma Housego and Cade Deaves. Some of you debuted at Midlands now you know how hard you must train to make finals! Next year!
Well done swimmers!