Many new County qualifiers and one Midland time during successful Tulip Meet
Submitted by

Maciej

on Mon, 2018-05-14 21:32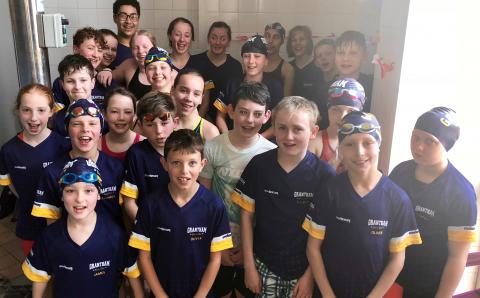 Big congratulations for new County qualifiers – Grace Davies in 50 fly, Oliver Bailey in 50 fly, James Nichols in 50 fly, Thomas Thornton in 50 free, 50 back, 100 back, 50 breast, 100 breast, 200 breast and 50 fly. Excellent swimmers!
Congratulations also to Grace Turner who, in 200 butterfly, swam faster than this year's Midland qualifying time! Impressive!
Swimmers achieved fantastic results in 50 breastroke – Amy Crook and Millie Bailey both shaved off over 3 seconds from the previous time. Millie is leading the County ranking – well done!
In 200 breastroke Grace Turner – who had a fantastic meet winning lots of gold medals – improved by 10 seconds and moved to second place in the County ranking. Also in the same event Ava Reed smashed her old time by a stunning 20 seconds and Amy Crook by 17 seconds! Wow!
Grace Turner won her 100 breastroke, topping the County ranking with over 5 seconds personal best! Thomas Thornton keeps impressing with his improvement rate - this time in 100 breastroke. Thomas shaved off 15 seconds which is now 4th fastest time in the County. In this event Sam Leveridge also swam well and improved by over 6 seconds.
Amy Crook improved the most in 50 backstroke clocking a time faster than she had previously recorded, by over 5 seconds.
Millie Bailey is rapidly becoming a new swimming star in our club, improving in 50 free by an impressive 5 seconds and achieving the fastest time in Lincolnshire! Wow!
In 100 free, the girls from Grantham showed some impressive performances. Rosie Belcher bettered her PB by 10 seconds, Amy Crook by 7, Josie Turner by 6 and Millie Bailey by an excellent 12 seconds which puts her second in the County ranking. Alasdair Henderson was the fastest among our boys with a solid PB by over 4 seconds, William Wardle by 4 seconds and Oliver Bailey by great 6 seconds!
The biggest improvement in 100 backstroke was recorded by Thomas Thornton by an excellent 16 seconds, Grace Davies – impressive 15 seconds and Amy Crook added another solid PB by 13 seconds. Thomas Perks swam well shaving off 7 seconds while Emily Parkins and Grace Turner bettered their times by 4 seconds.
In 200 IM Alasdair Henderson and Thomas Perks both showed a very respectful improvement and swam 13 seconds personal bests. Oliver Bailey improved by asolid 6 seconds and moved up in the County ranking to the fifth place.
Thomas Perks, in 200 free, swam a great race with over 10 seconds PB. Oliver Bailey and Thomas Thornton both swam accordingly 7 and 6 seconds PB. Grace Turner, Emily Parkins and Ava Reed all improved by a very solid 5 seconds!
In 200 breastroke there were some respectful results. Edward Bellamy swam a great race and with his new PB by 12 seconds Edward is fourth in the county. Thomas Thornton smashed his time by amazing 27 seconds and setting the second fastest time in the County ranking. Wow!
In 200 butterfly our swimmers always shine and this time was no different. Rosie Belcher swam 10 seconds off her previous time and Grace Turner took nearly 5 seconds off and moved up to third place in our County. Callum Lees shaved off 3 seconds (4th in the county ranking), Cade Deaves bettered by 4 seconds (5th in the ranking) and Joshua Clarke by stunning 42 seconds (2nd in the ranking). Excellent performances!!!
Callum Lees was the fastest from Grantham in 200 backstroke with nearly 8 seconds PB. Cade Deaves and Thomas Perks both improved their times by 20 seconds! Great job boys!
In 50 fly Emily Parkins, Grace Davies, Amy Crook and Josie Turner all achieved significant improvement. James Nichols with over a second PB stays strong in the lead of the County ranking.
Grace Turner, swimming the second fastest time in Lincolnshire this year in 200 IM, came first in her race, improving strongly by 5 seconds. Grace also swam a superb 200 backstroke where she clocked an 8 second PB.
Excellent swims Grantham!!!