Stunning results at the Nova meet with Molly Colbert breaking a County record
Submitted by

Maciej

on Thu, 2018-05-24 17:53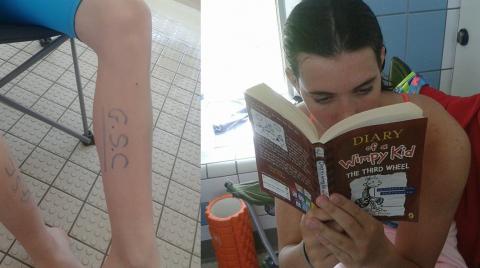 It has been a while since so many records were broken in a single gala and swimmers demonstrated such commitment in races.
Molly Colbert showed that if you don't quit when it gets tough you will eventually reap the benefits of the hard and consistent training. In sport you sometimes have to stay patient and keep working as hard as you can.
Molly was only the second swimmer in the club's history to go under 59 seconds in the long course in 100 free, breaking the club and the county records. In 200 IM Molly was also the second swimmer in the club history to swim under 2.26, also breaking a club record in this event. Molly also set new records in stunning 200 and 400 free races. In those events Molly secured her place for 2018 Summer Nationals!
Abigail Farkas swam well in 100 butterfly final bettering her own PB and her own club record. This time, and her 200 butterfly PB, keep her safe in the English and British Championships.
Grace Turner smashed the club record in 100 breastroke achieving nearly 12 seconds personal best time. Grace also swam 3 seconds faster than her best time in 50 fly, just shy of another club record.
Callum Melville showed some excellent progression and set club records in 50 free, 50 fly and 100 fly. The last one puts him into 14th place in the British ranking and second in Scottish.
Callum also achieved a stunning PB in 50 backstroke by over 6 seconds, but just outside the club record.
Billy Reed set a new club record in 400 free (14 seconds PB) and 100 backstroke (over 2 seconds PB).
Connie Philips swam a brave race and bettered her time in 100 fly, set just weeks ago, by over a second, moving up to 10th place in her age group in the British ranking. Connie still needs to drop some seconds to qualify for 12/13 age group in English Summer Championships which is extremely hard.
George Berwick, despite a prolonged injury, clocked 4 seconds PB in 50 breastroke and 8 seconds PB in 200 breastroke and is only 7 seconds off the time which would give qualification for this year Nationals. The future is bright here.
Callum Lees, also in 50 breastroke, swam a new PB by 4 seconds which is the third fastest time this year in Lincolnshire.
Mia Ellis, after reading a chapter in the mind training book, clocked over 4 seconds personal best in 100 breastroke and the same PB in 50 backstroke.
Chloe Hopkinson achieved a valuable personal best in 400 IM and nearly 3 seconds PB in 200 breastroke which is the second fastest time in the County.
Well done also for Thomas Lewis, Iona Colber, Evie Turner, Maddie Barnes and Jemma Housego for delivering some solid performances!
For some swimmers it was the last chance to qualify for this year summer Nationals. However some swimmers would still give the extra push at Sheffield during Derventio Meet.
Keep fingers crossed for Molly Colbert, Maddie Barnes, Connie Philips, Iona Colbert and Evie Turner – they will be all trying to swim qualifying times.
It is never easy to qualify for the National championships, but "if you believe in yourself, anything is possible"!!!